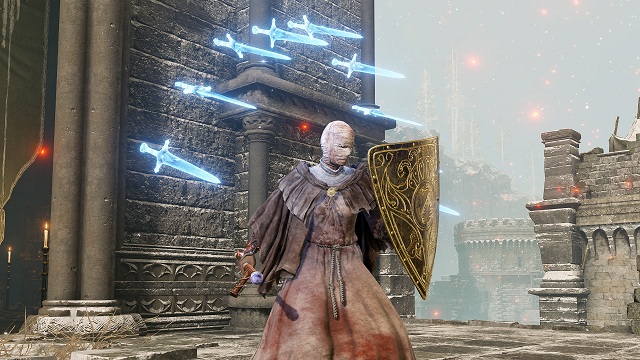 Compared to other spells games from FromSoftware Workshop, there are many new settings in the world of Elden Ring. Players can even experience multiplayer mode or PVP mode to complete the quests with other players in the game, or even fight against other players in the field. So, if you are the wizards of Elden Ring, you need to learn some good spells for preparing for multiplayer mode. You may collect some rare items with
Cheap Elden Ring Runes
for crafting your potions in order to keep healthy in battle.

How to Choose Best Spells For PVP Mode
Rock Sling
Perhaps the most famous spell in Elden Ring, Rock Sling is a damage machine that players can ride until they defeat the final boss. It's unlocked fairly early on in the Caelid Street of Sages Ruins and doesn't require much FP or Intelligence Attributes to cast (18 each). When cast, players will summon rocks from below and shoot them at the targeted enemy. What's great about Rock Sling is that the rocks will tend to follow the targeted if they move, so players don't have to worry about aiming too much.
Ranni's Dark Moon
Location: Chest in Chelona's Rise
Ranni's Dark Moon is a handier version of Rennala's Full Moon. While it costs more compared to its sister spell, Ranni's Dark Moon comes with a truckload of debuffs and conditions that will make any PvP enemy panic. It's slow, however, so players shouldn't expect it to hit every time.
Instead, players should be using this spell as an opener; enemies will be busy trying to dodge it and that's when players can pepper them with cheaper, faster spells. The explosion radius is also big enough that some players end up getting caught in the Frostbite burst which also gives them a debuff against magical attacks.
Lightning Spear
Location: In the eastern Liurnia of the Lakes you have to kill the Leyndell Knight moving around the south of the Artist's Shack. He will drop a Dragoncult Prayerbook that you can take to the Miriel, Pastor of Vows in the church of Vows for getting that spell.
This Lightning Spear is one of the best incantations in the Elden Ring. It has a great range and does a lot of damage. Its FP cost is not much which makes it an even more useful spell in Elden Ring. You can also charge this spell by holding the casting button that will increase the damage done to the enemies after the hit.
Glintstone Pebble
Location: Sorceress Sellen in Waypoint Ruins in Limgrave/Thops in Church of Irith in Limgrave
The Astrologer class really doesn't need to do much as they come out of the cave equipped with one of the most basic yet effective spells for casters. The Glintstone Pebble is basically a magic arrow that's a lot less tedious to use compared to a physical bow and arrow setup.
It does fall off a bit in high levels (around 100 or so) but it's still great for catching PvP opponents off-guard since the cast time is decent and the follow-up cast after the first is almost instant. It's great for trying to snipe away at the final sliver of health enemies have without endangering oneself.
These spells may be suitable for players to use in the PVP mode in Elden Ring, and if you have got other good spells, you can combine them together in order to make the right combination for battle. And if you are looking for other good gear for your character, you can
Buy Elden Ring Runes
to get them in the shop near the church. There are sometimes good gear for sale.