Fallout 76 is primarily a multiplayer game in which explore alongside your friends in a shared world, a post-apocalyptic wasteland. In Fallout 76, Not only can
you squad up with friends to take down mutated creatures
, but you can
fight other players too on your own, with Fallout 76 PvP (player versus player)
leading to a little extra danger as you explore the world - and you'll immediately "be wanted" if you become too aggressive and kill someone. Luckily, there is also the option to play in Pacifist Mode if you don't want to harm other players. Today, in this article, We'll explain how to play PvP in Fallout 76 for those who want to take a swing at fellow players.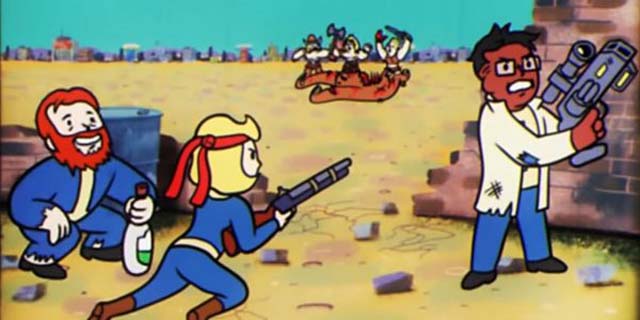 How Fallout 76 multiplayer works?
Before we get started, let's take a look at how Fallout 76 multiplayer works at first. Here are some essential points:
1. There will be 24 players per world, and you can group up with strangers organically, or join up to three other friends to create a squad of four.
2. It's possible to start the game with a squad, and every mission in the game can be played with a co-operative team.
3. You can trade items with and interact with other players with emotes.
4. You can fast travel to your squadmember's positions, which are located on the map. There is also a team leader in the squad, who can nominate quests for you to follow.
5. If you are downed, you can call for help for another player to revive you.
6. If you die, you can opt to respawn near your team.
7. PvP is gated off at the start of the game - you need to be level five and another to start.
8.
How to unlock PvP combat mode in Fallout 76 and how Wanted Bounties work?
In order to unlock the PvP multiplayer element in Fallout 76, you must first reach level 5. Before level 5, you are forcibly defaulted into Pacifist Mode. Pacifist Mode is a mode in which you cannot harm other players. Having this mode activated means you omit the risk of becoming Wanted or Hostile.
PVP is a strange system in Fallout 76. When you shoot another player, you essentially "initiate"PVP. The other player can run away or ignore you (your attacks do 50% damage, half your normal damage rate) — but, if they turn around and shoot you, then the fight is on, and you'll both be doing full damage.
After killing your target, you'll be marked in red as a murderer to everyone else on the server. You'll also get the "Wanted" status. Your position is then shown as red on the map for other players to track you down. If the player you just killed comes back and gets a revenge kill on you, they'll be able to loot double the junk or scrap off your body.
How to survive an attack in PvP?
With low-level enemies, melee has some advantages. Because the FPS aiming isn't as fluid as shooter-focused AAA games it's easier to disorient a player who's trying to shooting you by zig zagging around them and attacking with your melee weapon. If you're not in close-quarters and have to return fire this strategy still applies. There's no sticky cover in Fallout 76 but you can cheat quite a few objects in the environment to find decent cover. For Power Armor, you can come and buy
Cheap Fallout 76 Bottle Caps
at
5mmo.com
, a reliable, cheap and fast online in-game currency store. Moreover, by using the code "
5MMO
", you can enjoy a 3% discount.