Fortnite Boggie Bombs Guide: How to Find Boggie Bombs and Dance With them in Fortnite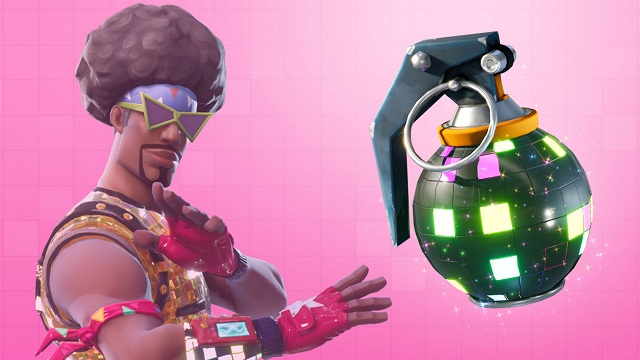 As the coming of Fortnite's No Sweat Summer quests, there is a quest that making a character dance with a Boggie Bomb waited for players to complete. Many players are confused about where to find Boggie Bombs in the Fortnite. They want to know the guidance and how to complete this quest quickly. Players can buy
Cheap Fortnite V-BUCKS
to select their desired items for characters which makes them attractive in the matches.

What's the Boggie Bombs in Fortnite?
First introduced during the second-ever season of Fortnite, the Boogie Bomb is a throwable item that makes those caught in its disco blast uncontrollably dance for up to five seconds. Most effective at mid-range, the item causes affected opponents to exit vehicles, although the blast will affect any and all parties caught in it.
Where to Find Boggie Bombs in Fortnite
For the best chance at finding a Boogie Bomb in Fortnite, head to the bottom of Rave Cave where the Disco is already raging. Search the nearby chests and it won't be long before you find a Boogie Bomb waiting for you. If you're unable to find one in this area, or it's already looted, simply leave the lobby and join another match to make things easier on yourself.
How to Use Boggie Bombs in Fortnite
To make opponents dance with Boogie Bombs in Fortnite, the principle is very simple - throw the Bomb like a grenade, and opponents within a short distance of the blast - roughly five meters - will be forced to dance uncontrollably for five seconds, or until they take damage (whichever happens first).
After getting a Boggie Bomb, your next goal is to look for a character. However, this is not a player but rather an NPC that you can see wandering around certain locations on the map. To track them, all you need to do is to select the mission from your quest list. Their locations should then pop up on the map. After finding a character, throw one of your Boogie Bombs at their feet. This will cause them to dance, and the quest will also give you 15,000 XP upon completion.
When using the Boogie Bomb, you can play a joke on your teammate, an NPC. Or even the opponent by aiming and hurling it at them. Instead of doing any damage as it lands, it throws out a disco ball. And causes everyone inside the radius to dance in a funky way. During the 5 seconds the player is dancing they cannot run, crouch, build or shoot. The player must get out of the car and dance if they are in one.
To use Boogie Bombs effectively, players should throw it in the path where the opponent would move. Instead of throwing it on them, or behind them, throwing a Boogie Bomb in an opponent's path would stop them from making sudden moves. Similarly, you can also use these items in a box fight to take down opponents swiftly. In a scenario where the opponent is holding builds above you, make sure to throw the Boogie Bomb after destroying their builds.
When players know how to use the Boggie Bombs in Fortnite, they will find it is fun for them to see the opponents dance on the ground. And if you want to get other good skins or items for characters, you can
Buy Fortnite V-BUCKS
to purchase them in the shop and wear them for your characters in the match.