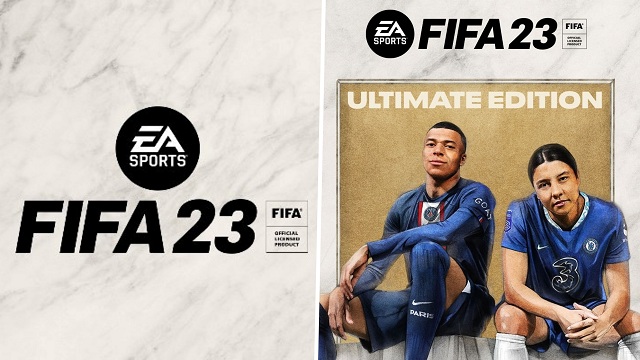 Fans of FIFA series have heard the news about the pre-order of FIFA 23, they will have access to play the latest FIFA 23 in this summer. While some fans are confused about the choices of different versions of FIFA 23. If you want to know how to choose the right edition of FIFA 23, you can read this article to know the guidance. Players can use
FUT 23 Coins
to find good player cards for each position in the Ultimate Team in order to win more matches in FIFA 23.
How to Pre-Order FIFA 23
Physical copies of FIFA 23 will be available for purchase at retail stores worldwide, with digital copies expected to be available via your platform's game marketplace. PlayStation users can pre-order digital copies of FIFA 23 through the PlayStation store, while Xbox players can use the Microsoft store to purchase the game. Meanwhile, PC players should be able to find a FIFA 23 pre-order on Steam and Origin.
Bonuses of Pre-ordering Standard Edition of FIFA 23
FUT Team of the Week 1 Player Item (Untradeable)
Kylian Mbappe Loan Item, for 5 FUT matches
FUT Ambassador Loan Player Pick, for 3 FUT matches
Career Mode Homegrown Talent, local youth prospect with world-class potential
The Standard Edition of FIFA 23 is the base version and while it doesn't come with many perks, it is the cheapest version of the game available.
Prices of Standard Edition of FIFA 23
There's always a standard-type pre-order option, and FIFA 23 is no different. This will cost you the base price for a new game on your console, being $60 if you're buying the PS4, Xbox One, or PC version and $70 for the PS5 and Xbox Series X versions. If you have EA Play, those prices are discounted to $54 and $63 respectively.
Bonuses of Pre-ordering Ultimate Edition of FIFA 23
Limited Time Offer – FIFA World Cup FUT Heroes Player item at November 11
Ones to Watch Player item from September 30
3 Days Early Access
Dual Entitlement – free PlayStation 5 upgrade
4600 FIFA Points
Team of the Week 1 Player item
Kylian Mbappé Loan item
FUT Ambassador Loan Player Pick
Career Mode Homegrown Talent
The Ultimate Edition of any FIFA game is perhaps the most popular among fans, simply because it gives you access to the game three days before Standard users. This gives you a chance to get a head start to check out the FIFA 23 ratings and start building your Ultimate Team.
Prices of Ultimate Edition of FIFA 23
For the ultimate fans who like to get heavily invested in the game, specifically in the Ultimate Team mode, the Ultimate Edition will be worth the extra cash. This edition will run you $100 (or $90 if you have EA Play).
Which Edition should you pre-order?
Ultimately – which one you should pre-order comes down to how much of a FIFA fanatic you are. The Ultimate Edition is no doubt entirely more stacked with content, but also comes at £20 more of a cost to yourself.
We think if you're an avid FIFA player, go for the Ultimate Edition. The 4600 FIFA points alone are worth more than the extra cash, plus you get early access – so you can be the envy of all your friends when you're crafting your Ultimate Team three days earlier.
Players can know how to choose the editions of FIFA 23 from reading the whole article. If players want to build the good Ultimate Team in FIFA 23, you need
Buy FIFA 23 Coins
to select the best players cards from the transfer market in advances due to the prices.