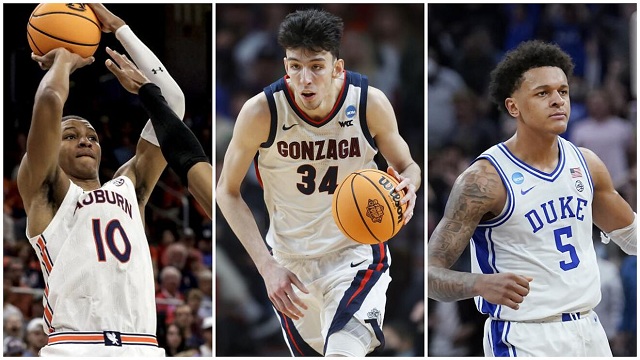 As the end of 2022 NBA Draft, some fresh faces have signed rookie contracts with different NBA teams. They dream becoming the next NBA superstar in their later career in NBA. These rookie players will be added into NBA 2K23. Many NBA 2K23 fans can't wait to predicting the rating of new rookies in the game. If you are interested in the ranks of these players in NBA 2K23, please read this article carefully and verify your prediction. Players can use
NBA 2K23 MT Coins
to unlock more rookies players and experience them in the real matches of NBA 2K23.

1.Paolo Banchero Rating 81 (Orlando Magic)
As the first rookie pick in NBA Draft, Paolo Banchero is not surprised to become the highest rate rookies in NBA 2K23. Just like the 2021 first rookie, Cade Cunningham, rating 80. The 2020 first rookie, Anthony Edwards, rating 77. Different players have been considered different expectations in NBA. So, people give him an 81 overall rating because most people believe him can quickly adapt to the new environment of NBA and make good performance in the matches. Paolo Banchero has a good body for NBA and can score in isolation. Paolo Banchero was an absolute stud at Duke and a five-star rookie in the class of 2021. People think that he will be ready for the next matches in NBA.
2.Chet Holmgren Rating 79 (Oklahoma City Thunder)
He was the second pick for Oklahoma City Thunder, Chet plays as big man in NBA. He is super tall and athletic for how tall he is. And he is also long and aggressive in the matches. He can protect the rim and shoot lights long distance. These good skills make him become one of the most exciting young players in NBA. So, rating 79 is fair for him because he is expected to grow quickly due to his immediate potential.
3.Jabari Smith Jr. Rating 78 (Houston Rockets)
Jabari is considered as one of the most balanced and versatile players in 2022 NBA Draft. He will be the best prospect in the draft. Jabari is one of the best fencers for his size, and he can become competitive and an elite scorer in the court of NBA. In addition, he is a good switchable defender who can defend players one through five. Although his rating is lower than Paolo and Chet, he could be a good forward in NBA.
4.Keegan Murray Rating 77 (Sacramento Kings)
Keegan Murray could be very effective player in NBA. He can defend at a high level and shoot the ball from anywhere on the court. Kings Team pick him in the forth place. They believe he can bring positive chemical for the team and play as a strong forward on the field. Rating 77 is the best prove for Keegan from people who expect him to become a good players in NBA.
5.Jaden Ivey Rating 78 (Detroit Pistons)
Jaden is a kind of player who is athletic enough to score and defend at an elite level, he is welcomed from the NBA teams. He owes blistering speed and the ability to add pressure on the rim. He will be the shining star in Pistons in the next season of NBA. Rating 78 means that his scoring skill is better than other players from NBA Draft.
6.Bennedict Mathurin Rating 77 (Indiana Pacers)
Bennedict is one of the most intriguing prospect in the 2022 NBA Draft. As a confident and feisty immediate guard who can influence the game on offense. Although his three-point shooting still needs improvement, rating 77 may represent that he is ready for the competition of NBA.
These rating predictions for rookie players from 2022 NBA Draft let fans of NBA 2K23 know the information of these players in advance, they can choose to
Buy NBA 2K23 MT
to select their desired rookie players in the game, and use them to play against other players in the matches.