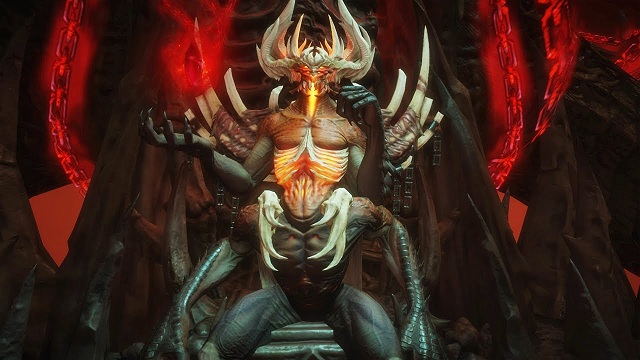 There are many different kinds of bosses in the world of Diablo Immortal. In order to gain more good rewards including good gear and gems for characters, players need to find ways to kill powerful and fierce bosses in the game. One of these fierce bosses is the boss Skarn. Players want to find ways to kill this boss in Diablo Immortal. Players can use
Diablo Immortal Platinum
to level up their weapons or armors in time in order to kill more enemies in the game.

What's Boss Skarn in Diablo Immortal?
The final boss in Diablo Immortal's campaign is Skarn, Lord of Damnation, and he can be very difficult to defeat depending on the player's character class and which skills are being used. Skarn has a variety of attacks, as well as multiple phases in the battle, that require different techniques.
Ways to Defeat Final Boss Skarn in Diablo Immortal
Skarn is a final boss, but that doesn't mean it's the end of your adventure. There is still a lot to do, and Diablo Immortal endgame content is very challenging. But before that, you have to free the world from the threat of Skarn. That can be a tall order if you're not ready, so make sure to be at least level 55 before going at the Lord of Damnation. You'll also need to do several things:
Destroy Pit of Anguish in the campaign's dungeon.
Get angels to help you open the door to Skarn's lair.
Ensure you are strong enough and well equipped for a final boss battle.
Having a powerful Solo class will help in an intense battle such as this. Once players begin fighting Skarn, the battle may seem fairly simple; however, this feeling is short-lived once the boss starts shooting demon fireballs. Dodging from left to right or right to left and keeping enough distance away from Skarn will allow players to easily outmaneuver them. Then, the boss will summon some worm-like creatures that shoot small fireballs from a distance, but they're not hard to take down due to their low health.
Due to the limited amount of Healing Potions that you have with you, burning through them quickly is not a good option that must be avoided at all costs. Try to avoid as much damage as possible, as most of Skarn's attacks are telegraphed early and can be dodged easily.
Lastly, don't start using your potions until you've taken out at least a third of Skarn's health to ensure that you at least have one potion left near the end of the fight.
The key to stopping Skarn here is to find and kill the clone that is glowing with a red circle. This true version of Skarn can change through the fight, but as long as you land the last blow while there is a red circle around him, the clones will fade away and the real Skarn will appear back in the center.
The rest of this battle will be a test of endurance of knowing when to dodge his powerful beams, and when to press your attack and get in as many hits as possible. Try not to get overwhelmed by killing all the slagspitters as soon as they appear, and rush to the sides when he prepares to summon his clones.
When players finally find ways to defeat Skarn in Diablo Immortal, you will obtain more rewards from the bosses. And if you realize the low ability of characters in Diablo Immortal, you can
Buy Diablo Immortal Gold
to purchase good gear or weapons for your characters in order to upgrade their basic stats in the game.