Diablo Immortal Adventure Journals Guide: How to Obtain Adventure Journals in Diablo Immortal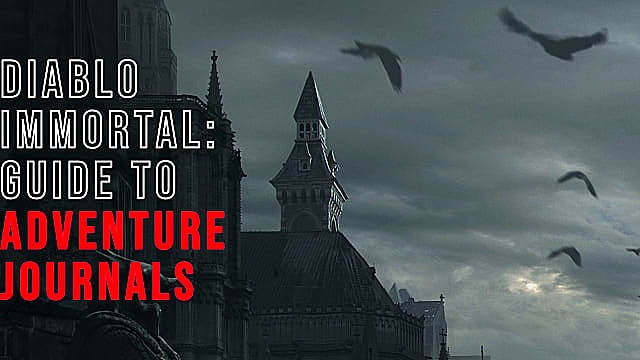 There are a lot of rare items in the world of Diablo Immortal, one of them is the Adventure Journals. They are rare bonuses for initiating specific activities. Many players want to know how to obtain this rare item in Diablo Immortal. You can find the guidance by reading this article. Players need
Diablo Immortal Platinum
to gather their desired materials for crafting the best equipment for characters in Diablo Immortal.

What's the Adventure Journal in Diablo Immortal?
The Adventure Journal in Diablo Immortal is a unique item that can be used in exchange for something else in the game. It's the most consumable and demanding item in the game, but unfortunately, it can not be quickly farmed, so the player must use other ways. The Adventure Journal can only be attained through codex or other ways of progression in the game. Its rewards in the game are used to get the Elite Quests that are longer than normal.
Requirements of Obtaining Adventure Journal in Diablo Immortal
In order to start completing activities that award Adventure Journals, players will need to reach the max character level of 60 and switch to Hell difficulty. Unlocking Hell difficulty and Paragon leveling will require some grinding, so players should be prepared to commit a decent amount of time to the game before Adventure Journals become available.
The best ways to reach level 60 quickly are to complete story missions, unlock Bestiary pages, and level up the Battle Pass in Diablo Immortal. Once a character reaches level 60, players can continue farming for XP to reach new Paragon levels and earn Adventure Journals. In order to earn these special rewards, players will need to complete specific missions and reach Paragon milestones.
How to Obtain Adventure Journals in Diablo Immortal
We have known that there are only two ways that we know of to get Adventure Journals in Diablo Immortal:
1. As rewards for completing certain objectives and milestones in the Codex
2. As rewards for reaching specific Paragon levels
These are not very good methods, unfortunately. These reward systems are very context-specific and difficult to farm quickly and effectively. Since both of these tasks are not specific to collecting journals, they will be more of a second reward rather than a primary. Players will, almost always, get Hilts from Codex goals and Paragon levels, while the Journals are rare, random one-off items. On the other hand, you can exchange them for unique, new missions.
How to Use Adventure Journals in Diablo Immortal
If you want to use an Adventure Journal in Diablo Immortal, you must first meet with Taite the Adventure Seeker in Westmarch. She will provide you with a clue about an Elite Quest that you can undertake.
On the Westmarch map, look for Taite the Adventure Seeker in the far southern corner. Use the Rakkis Plaza Waypoint and head north. She can be found along the side street leading to the Court of Whispers.
When you talk to Taite, you can effectively trade in one Adventure Journal for the chance to start an Elite Quest. Elite Quests are long, multi-stage quests, a thread of challenges that'll take you to different locations, fighting different enemies, but ultimately bring you to generally better rewards than whatever you would've gotten fighting in regular quests for the same amount of time. Considering the value of Adventure Journals, you'd definitely hope as much.
If you want to complete more Elite Quests in Diablo Immortal, you had better collect more Adventure Journals in the game. And in the process of questing, you can
Buy Diablo Immortal Gold
to level up your weapons or gear in time in order to defeat more enemies in battle.