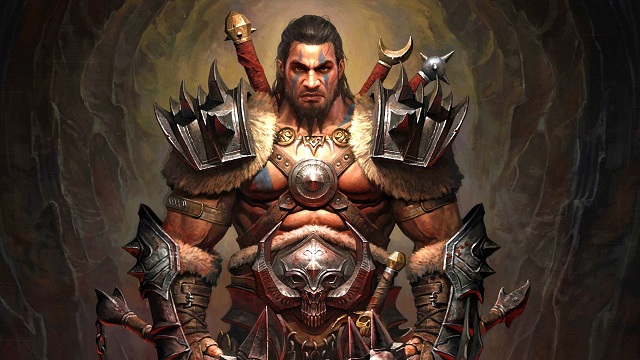 In Diablo Immortal Season 13, some players expect to try the Barbarian build in the game. While, there are too many different kinds of Barbarian builds. They want to know the most effective Barbarian builds. If you are also interested in the Barbarian Build in Diablo Immortal, you can read this article for guidance. Players can use
Cheap Diablo Immortal Gold
to upgrade characters' gears and weapons fast in the game.
How to Build the Best Barbarian Build in Diablo Immortal
To create the best Diablo Immortal Barbarian build, you want to take special care to manage your damage output and health accordingly, ensuring that you aren't caught out by large single-target enemies while managing the crowd.
Best attributes for Barbarian
Strength
Fortitude
Vitality
Strength is the go-to attribute for Barbarians. Every point you put into Strength not only increases a Barbarian's Combat Rating by 1, but also boosts their damage by 0.33.
Armor Penetration is always going to be useful when you're wailing on enemies, but as a cheeky bonus Fortitude also grants an additional +0.1 Armor. This might not seem like much, but every little helps when you're constantly getting up close and personal. Increasing Armor also increases your Block chance, mitigating 20% of damage dealt.
Staying alive is the aim of a Barbarian, and there's no easy way to do that if you don't have a health pool large enough to tank heavy hitters like minibosses. Vitality might not be as invaluable to a Barbarian as strength, but neglect it at your peril.
Best Barbarian skills in Diablo Immortal
In Diablo Immortal, your skills are what you use to deal damage and inflict effects upon enemies. Barbarians are particularly powerful lone warriors, able to heal themselves while dishing out devastating damage.
Below, you can find the best skills for a Diablo Immortal Barbarian build:
Primary Skill: Frenzy (unlocked at level 32)
Whirlwind (unlocked at level 8)
Leap (unlocked at level 28)
Undying Rage (unlocked at level 44)
Wrath of the Berserker (unlocked at level 50)
Best Legendary Items for Barbarian in Diablo Immortal
Whilst you'll start out with common, magic and rare items, you'll eventually want to transition your primary items slots to Legendary items. These powerful pieces of equipment not only have higher stats, but also provide legendary powers to help enhance your existing skills. Plus, they can be socketed with Legendary gems too.
When assembling the best Barbarian Whirlwind build, we'd opt for these Legendary items:
Head – Second Breath
Shoulders – The Coming Storm
Chest – The Gathering
Legs – Screaming Fury
Main Hand Weapon – The Tempest
Off Hand Weapon – The Remembered
Best Legendary Gems for Barbarian
Berserker's Eye, Chained Death, Ca'arsen's Invigoration, Seled's Weakness, The Hunger, Mocking Laughter
For legendary gems, we've stuck to low rarity ones you can craft yourself. Chained Death and Ca'arsen's Invigoration work well together, buffing your primary attack speed and damage with consecutive hits, while Seled's Weakness and Mocking Laughter draw elite enemies to you, and grant you increased damage when you defeat them. In terms of weapons, Eager Maelstrom increases the radius of Whirlwind, but the real star is Broken Soul, which has the incredibly strong effect of converting Wrath of the Berserker's usual speed buff into an increased critical hit chance.
Barbarians are all about jumping into the thick of the fray and rapidly dealing as much heavy melee damage as possible, so our goal with this build is to enhance your ability to do just that. Investing heavily into Strength and Vitality is an excellent way to do this, as you'll want the best melee damage possible as well as a large health pool to offset the Barbarian's lack of strong damage mitigation options in Diablo Immortal.
If you want to build the best Barbarian in Diablo Immortal, you can follow the guidance and adjust them according to the team role of Barbarian. Players can
Buy Diablo Immortal Platinum
to select the suitable gears for characters in the game shop.