Fortnite Fortnitemares Quest Guide: How to Throw Candy From A Vehicle in Fortnite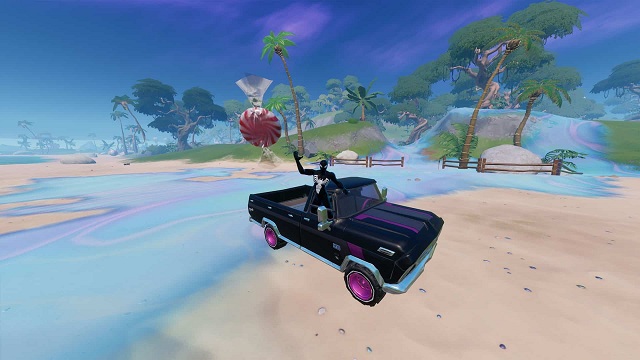 As Fortnitemares 2022 comes in Fornite, players have access to complete different kinds of quests and earn more good rewards in the game. While, one of these quests asks players to throw candy from a vehicle. Most players are confused about this strange quest and wonder about where to find candy on the island of Fortnite. If you want to complete this quest quickly, you can read this guidance carefully. Players can use
Cheap Fortnite V-BUCKS
to purchase the Battle Pass and try to complete more quests for XP. Some skins from the Battle Pass rewards are really attractive.
How to Complete Throw Candy From A Vehicle
You have to get some candy at first
The first step toward completing this quest is to obtain some candy, and those items can be found in Halloween buckets during Fortnite's Fortnitemares event. While these buckets appear in a variety of locations, it is recommended that players target Willow's Haunt on the west side of the map. Indeed, not only will fans find several buckets of candy near the entrance to the structure that is situated at this point of interest, there are also several nearby vehicles as well as the opportunity complete yet another Fortnitemares Quest.
Here are some guaranteed spots you can find them:
Willow's Haunt - northwest of Reality Tree
Loot Lodge - the center of Loot Lake
Tilted Towers
Greasy Grove
Chrome Crossroads
Fort Jonesy
Cloudy Condos
You need find a vehicle to drive
Once Candy has been obtained, the next step of the challenge is to find a vehicle. There are four types of vehicles that players can choose from. Since the challenge doesn't involve driving around, even the slow Mud Flap truck will do.
While vehicles do spawn all over the island, those who attempt the challenge at Rocky Reels will find a few nearby. Although the location is not safe in certain matches, players will be able to commandeer a vehicle from here without much hassle.
Throw Candy From a Vehicle
Once a player locates a vehicle in Fortnite, they should enter it and direct their attention the left side of the screen. In this position, fans will see the specific input that must be used to switch seats, and they should press it. Players should then confirm that they have their candy equipped (at least three), hold the aim input, and press the fire input three times to launch the candy and complete the associated quest.
The Rewards of Completing This Quest
The reward will be 15,000 XP, which is useful for those looking to unlock items from Fortnite's Chapter 3 Season 4 Battle Pass. Players that finish this quest will be closer to unlocking the glider, pickaxe, and back bling that are on offer during Fortnitemares 2022.
Throw candy from a vehicle is a really interesting quest for players to complete in Fortnite. The quest is not difficult, and you can just follow the guidance and remember to finish each step. Then, you will find that you have got the rewards easily. It may just take you some time in the process of matching.
There are a lot of good and cool cosmetics or skins for players in the period of Fortnitemares 2022. Players can
Buy Fortnite V-BUCKS
to unlock more if you are lack of enough XP in the Battle Pass. You characters will be well-decorated with these cool skins or items in Fortnite.