Fortnite Game Guide: Where to Find a Shield Keg and What's the Function of Shield Keg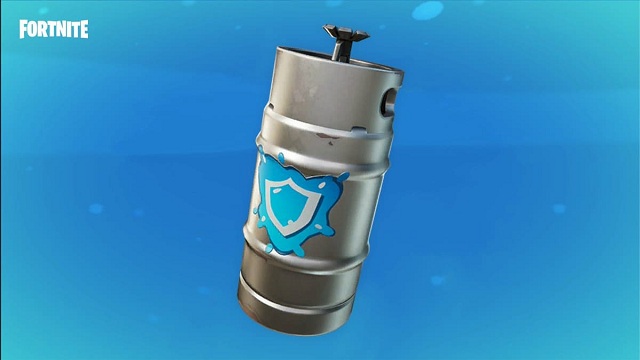 Due to the new update of Fortnite, there is a new items that introduced in Fortnite Chapter 3. It is the Shield Keg, which can be used to recover shields on both teammates and enemies. While it is not easy for players to find it on the island. You can learn from this article to know where to find the Shield Keg. Moreover, if you need to upgrade your weapons in Fortnite, you can buy
Cheap Fortnite V-BUCKS
to upgrade them in time in order to improve the ability of character in the battles.

What's the Function of a Shield Keg
The Shield Keg can max out Fortnite players' shields, and it also works for teammates. To use Shield Kegs, players must place them on the ground. The shield liquid will begin to splash out, and, as long as players are within the radius of the splash, they'll get shields. Shield Kegs don't fill up the shield meter instantly, but they can be helpful when attempting to camp out or hide. However, the Shield Keg doesn't pick sides; if an enemy player is close enough, they will also receive the benefits of the Shield Keg.
Where to Find a Shield Keg on the Island
Fortnite's new Shield Keg item grants players the ability to restore shields for themselves as well as their allies. The new item is thrown onto the ground, where a shield fountain sprays enough to fully restore shields. Shield Keg users beware, however, as the item can restore enemies' shields as well. While Shield Kegs can be found in chests, on the ground, and from Supply Drops, they can also be purchased. Players can buy Shield Kegs off of Lt. John Llama, found in the northern end of Sanctuary, and Lt. John Llama, in a building southwest of Logjam Lumberyard.
The easiest way to get a Shield Sprinkler in Fortnite is to speak to The Scientist or Lt. John Llama, as both of them will sell you Shield Kegs if you have enough Gold Bars saved up to purchase them.
The Scientist can be found at the north end of The Sanctuary, while Lt. John Llama is located south-east of Logjam Lumberyard. Alternatively, you can also find Shield Kegs in Chests and Supply Drops on the map.
These can restore up to 100 Shield to you, and your teammates can also take advantage of this by standing close to the Shield Sprinkler. You can throw it down and have your Shields constantly replenished while firing at enemies.
Alternatively, you can find Shield Kegs at random by searching through Chests and Supply Drops across the Island, and there's a very small chance you'll be able to find them in the wild as floor loot.
How the Shield Keg Works in Fortnite
Shield Kegs provide up to 100 shield health, which beats out any Slurp Juice or Slurp Splash item. All you need to do is throw the Shield Keg on the ground and stand within its sprinkling radius for the 10 seconds it stays active.
This means that an effective strategy is to place the Shield Keg down while your squad is grouped up and stay within its radius while you exchange fire with an enemy team. This will keep your healing going even if you're taking damage. The only time you'll really want to disperse is if the enemy team throws an explosive at you or if a car tries to barrel through the team.
There are also many other new items for players to explore in the Fortnite Chapter 3. If you are eager to collect the new items, you can
Buy Fortnite V-BUCKS
to collect them quickly in order to save your time on quests. You can find cheap prices about Fortnite V-BUCKS on 5mmo.com.