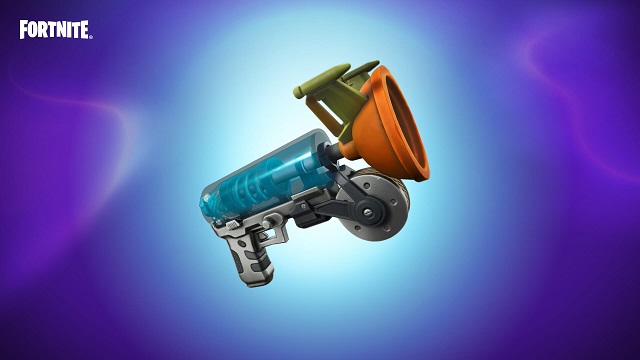 As the latest update of Fortnite releases, there are some new quests and items introduced in Fortnite Season 4 Week 9. If players want to complete one of Season 4 Week 9 quests, they have to find the new item called Grapple Glider in the game. Many players have no idea about where to find this item. We are going to list the locations of Grapple Glider and tell you how to complete the quest in this article. Players can use
Cheap Fortnite V-BUCKS
to select their favorite skins or items for characters in the game-shop easily.
What's the Grapple Glider in Fortnite?
Unlike regular Fortnite Grappler, the new mobility item allows you to redeploy your glider. It is of Epic (Purple) rarity and comes with 10 charges, so you must be careful while using it and pay attention to your remaining charges.
Where to Find Grapple Glider in Fortnite
The easiest way to get a Grapple Glider is to visit Bushranger, a Fortnite NPC that is located just southwest of the Reality Tree. Indeed, this NPC has Grapple Gliders in stock, and he will be happy to part with one in exchange for 250 Gold Bars. You can try to find him and it should make it very easy for players to obtain a Grapple Glider.
In addition, Grapple Guns can also be found in Chests, Supply Drops, Supply Llamas, and as floor loot. While it will almost certainly be faster to simply buy the item from Bushranger, these loot sources are good options for players that may be short on Gold Bars in Fortnite. If a player does decide that they want attempt to loot a Grapple Glider, it is recommended that they visit Cloudy Condos, Lustrous Lagoon, or Rave Cave, as there are many chests and a great deal of floor loot in these locations.
How to Use Grapple Glider in Fortnite
An obvious use for the Grapple Glider is escaping sticky situations and rotating with haste, but it's also a very effective tool for build fights. Lose the high ground to your opponent? Use the Grapple Glider to pull yourself up to their level when they least expect it.
Furthermore, the Grapple Glider can save your life when the structures beneath you come crashing down. With some quick reflexes, you can use the Fortnite Grapple Glider to latch onto a sturdy surface and then whip out your Glider to avoid fall damage.
How to Complete Hover 250m with Grapple Glider in Fortnite
To complete this quest, you will have to use the grappling hook glider while already at a height, such as on an overhead structure (e.g. the one west of Greasy Grove) or driftwood. Otherwise, by going to the Tree of Reality or places such as Shiny Sound or Tainted Towers, where huge structures take place, you will be able to complete the challenge quite easily. If you're already high enough, try hanging onto a taller structure to cover 250 yards in one go.
The Grapple Glider is a really interesting item for players to use in the game. And when you use it to complete the quest, you will be rewarded with large XP which can be used to level up your Battle Pass. In addition, players can
Buy Fortnite V-BUCKS
to purchase the Battle Pass in order to unlock more good cosmetics or skins for characters in the game. Players who are fond of collecting skins expect level up the Battle Pass quickly.