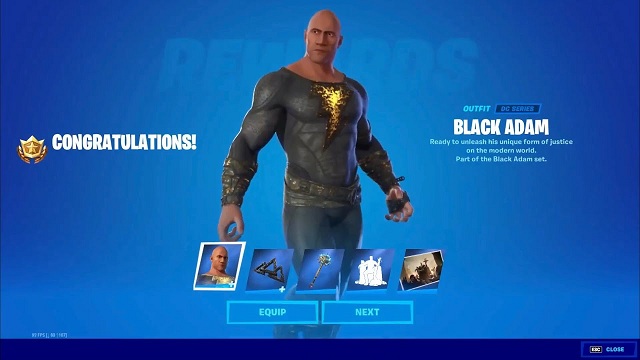 Many players have heard from the news that the Black Adam Skin will be introduced in Fortnite. Players who are fond of DC Comics Superhero are excited about this new skin. They are willing to know everything about Black Adam Skin in the game. You can read this article to know the information of Black Adam Skin and the way to get it in Fortnite. Players can also get
Cheap Fortnite V-BUCKS
to purchase other good cosmetics or skins for characters in Fortnite.
Black Adam Skin in Fortnite
Fortnite has revealed its latest crossover skin, which this time comes in the form of DC Comics superhero/antihero Black Adam, especially those from comic books. Star Dwayne "The Rock" Johnson has shown off a clip of Black Adam in Fortnite, showing the character dropping onto the island in typical superhero fashion.
Release Date of Fortnite Black Adam Skin
The Black Adam outfit will become available to purchase in the Item Shop on Thursday, October 20 at 5 PM PT/ 8 PM ET and Friday, October 21 at 12 AM UTC. This lines up with the release of the Black Adam movie in theaters.
How to Buy Black Adam Outfit in Fortnite
As with most collaboration skins, you will probably be able to purchase the skin separately and its associated comics separately. However, a bundle containing all the cosmetics along with the skin could also be available in the store. Here are the cosmetics that could be a part of the bundle, as seen in the announcement on Twitter.
The Black Adam skin
Backbling
Pickaxe
Emote
Based on the prices of every DC skin to date, expect Black Adam to cost 1500 V-Bucks or so when he releases in the Fortnite Item Shop. Players will also likely be able to get their hands on the aforementioned Black Adam bundle for around 2000 or so V-Bucks.
Fortnite also revealed the addition of X-23, essentially the replacement for Wolverine in the comics, and featured in the critically acclaimed film Logan. X-23 has a more classic comic book appearance, however, while Black Adam retains The Rock's likeness.
Black Adam being included in Fortnite also marks the second character The Rock has in the game. His first character is The Foundation, one of the mysterious members of The Seven who are integral to Fortnite's ongoing storyline. The character was last seen during the Chapter 3 Season 2 finale event, "COLLISION," which saw him and Jones jump into the Zero Point to go after Geno.
If you are interested in the Black Adam Skin in Fortnite, you can try to focus on the latest news about the release of DC Black Adam movie. The release date of Black Adam Outfit is the same as the date of movie. Or, you can just watch this fantastic movie and log in the Fortnite shop to purchase them perfectly. You will become the attractive center in the matches if you get the Black Adam skin in a short time. What you need is to
Buy Fortnite V-BUCKS
and purchase your desired Black Adam bundle in the shop.