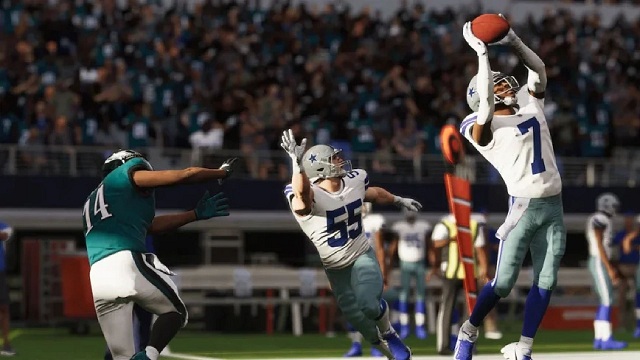 There are a lot of different levels of players in the Madden 23 Ultimate Team mode, they are going to compete against each other for the victory of matches in MUT 23. While, some players are often losing matches in the battle against powerful opponents in the game. So, you need learn some useful tips that helps you improve the chances of winning matches in MUT 23. You can read this article and learn from how to play well in the matches in Madden NFL 23. Players can use
MUT 23 Coins
to buy necessary chemistry items or equipment for improve the capacity of team in Madden 23.
How to Play Well in Madden NFL 23 Ultimate Team
Adjust to the Suitable Setting in advance
For many Madden vets, this will feel as automatic as a Brady/Gronk touchdown – but it's worth flagging all the same: head into the settings on the main menu (or in the Franchise menu) to bring up in-game sliders (from 1 to 100) that affect everything from QB accuracy to how tired players get. Practically every element of the game can be tinkered in some way.
Feel free to experiment while you're under the hood, but we'd recommend upping the Fumbles rating on both CPU and Player Skill so they occur less frequently. Lowering the QB accuracy (to stop the CPU turning Mariota into Mahomes) and increasing the various specific penalty ratings will immediately make the game a less frustrating experience.
Get Rewards by Upgrading Field Passes
Field Passes are MUT 23's answer to NBA 2K's Seasons and MLB The Show's Featured Programs--reward track systems that are leveled by playing Madden NFL 23 and used to unlock exclusive packs, coaches, and player items. There are three different types (Season, Competitive, Program) and each one complements the others with shared XP and stat-based missions that apply to new challenges, themed programs, and MUT Champions. They're entirely optional, but they're worth the time as they provide direction, an easier to-do list, and Field Pass LTDs like 86 OVR Headliners Derrick Brown.
Improve Your Strategy Items
Strategy items are boosts you can equip for certain position groups or to groups of players with the same chemistry, such as +1 to zone coverage. To maximize these strategy items, you are going to need build your team with players with similar archetypes and chemistries.
At every opportunity you should be adding chemistry upgrades to players who have open slots, using chemistries that fit with the rest of the team and the strategy items you have equipped.
Use the Auction House Well in MUT 23
The Auction House is where you'll spend a lot of time in Ultimate Team. Not only can you purchase Cards from here, but sell them as well (if you're not Quick Selling, that is). You have a lot of flexibility when purchasing cards, whether it's netting Cards for training upgrades or picking up a high OVR player. It's even possible to turn a profit by picking up high OVR cards for cheap and flipping them later when they become more valuable.
If you are struggling in winning matches in Madden 23 Ultimate Team mode, you can read this article and try to experiment these tips in your matches. They may help you solve several problems in the process of matching. In addition, you can
Buy Madden 23 Coins
to purchase good players from the Auction House for improve the depth of your team in the game. More good players may assist you to control the pace of matches.