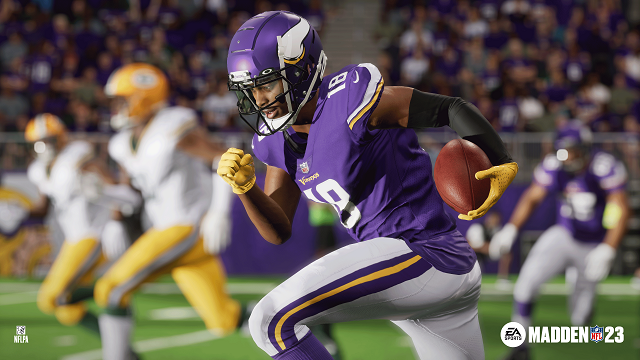 Madden 23 has been released recently, a lot of Madden Fans join in the party of Madden 23 Matches. They experience the new features of Madden 23 and enjoy competing against other players in the Ultimate Team mode. While, some beginners first play Madden NFL 23 and they need guidance to help them familiar with this game well. There are some essential tips for beginners to learn in this article. Players can use
Cheap MUT 23 Coins
to select the best players for their teams and improve the ability of teams in Madden 23.
You Can Decide to Play Madden Ultimate Team or not
If you're brand-new to Madden, you may be wondering where to invest your time. While many Madden fans still prefer Franchise mode, EA is happy to usher you into Madden Ultimate Team (MUT). In this mode, you complete challenges, normally shorter than full games, to earn coins and other rewards like player cards. As you slowly climb the game's massive ladder of content, you'll improve your team piece by piece, settling for incremental upgrades at most positions, while occasionally splurging to acquire a real playmaker.
While, the process of leveling up Ultimate Team will cost your money. If you just want to experience the normal matches with your friends or just complete some challenges in Franchise mode, you don't need to start the Ultimate Team mode. This can save you money and time mostly.
You Can Choose Your Favorite Team To Play in Franchise Mode
Franchise mode is where players take control of a team and make loads of decisions on their behalf. In addition, gamers will get to play through the entire season with them. This is a time-consuming process and it can be tempting to grab an already established team for easy wins.
It is so good for players to play with their favorite team in this mode. Wouldn't players prefer to win championships with their favorite teams? Players will come and go, but the team is constant. Be biased, that's what the mode is meant for.
You Shouldn't Press Your Acceleration Boost Too Often
Don't use the acceleration boost at the beginning of the play. Make sure to follow your blockers and use accel boost in open areas. Use the right trigger or R2 for the speed boost.
The reason to not use this, in the beginning, is that the blockers spread much far in the beginning. If you wait for the right opportunity, you can even get a touchdown.
You can Make Plans For Matches in advance
Like in real life, you can game plan for your opponent in Madden 23. You can view your weekly strategy from the main screen, giving you a detailed look at your upcoming opponent, their strengths, their weaknesses, and star players. Just because a team acts one way in real life doesn't necessarily mean they'll act the same in Madden 23, so be sure to check every week to see how the virtual version of the team is doing, what the favor, and your best points of attack.
These essential tips will help beginners a lot in the beginning of Madden NFL 23. And you will get your own tips when you have played more matches in the game. Players can
Buy Madden 23 Coins
to upgrade their favorite teams in the Franchise Mode and win more matches.