Madden 23 Coaching Level Guide: How to Upgrade Coach in Madden 23 Franchise Mode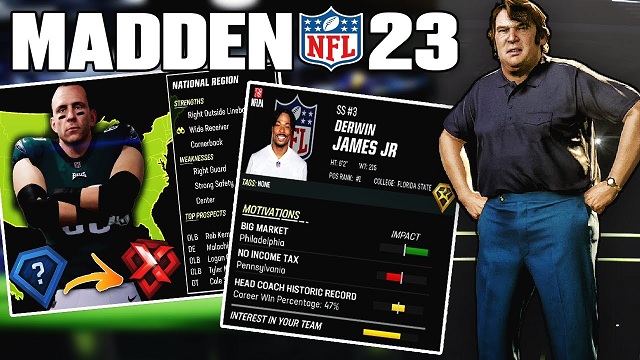 Many players are willing to create their unique players and play matches in Madden 23 Franchise Mode. While, in order to play well in Franchise mode, you can' t ignore the importance of the role of Coach in t the team. A good coach will make the right decision in the process of matches and instruct team players to do the right things that lead to victory in the end. So, if you are interested in leveling up coaching, you can read this article for guidance. Players can use
MUT 23 Coins
to get their desired players from the transfer market and complement the depth of team in Franchise mode.
Pay Attention to Head Coach Talents
You can find the various Talent Trees to improve coaches by choosing Manage Staff from the main Franchise screen. Click "View Talent Tree" on your HC's card, then tab between the various coaches and sections across the top. Note that Talent Trees have branching paths in some areas, and choosing the first node on one side of the path will lock all of the talents in the opposite side of the path in some instances until they merge further down, so choose wisely. You can lock yourself out of Talents.
Offensive Coordinator, Defensive Coordinator, and Player Personnel Talent Trees can be reset by purchasing the Mistakes Were Made skill at the bottom of the Head Coach's Staff Modifications skill tree for 30 points.
Obtain More Staff Points in Matches
The Player can select Weekly Goals to earn Staff Points on the Staff Management Page. The Head Coach will have seven options to choose from that will reward the allotted amount of Skill Points with the letter "F" surrounded by a green hexagon. The Offensive and Defensive Coordinator will have five options to choose from. The fourth Weekly Goal is a choice of eight specific Weekly Gameplan Goals, like getting two or more Passing Touchdowns or Sack the QB five Times.
Choosing the right Goals depends on play style and the build of the Roster. When using one of the Fastest QBs in Madden 23, a rushing goal may be easier to obtain. The Coach should change the Offensive and Defensive Scheme after setting the Goals. A high percentage Scheme will increase players' experience points in Weekly Training.
Best Offensive Coaching Adjustments in Franchise Mode
Deep Pass Catching: Balanced
Intermediate Pass Catching: Balanced
Blocking: Balanced
Ball Carrier: Conservative
Deep and Intermediate Pass Catching should always be set to Balanced. This allows for the most versatility in your playstyle. No matter what situation your players are in, their catching ability will be adequate.
As for Ball Carrier, you should play it safe and select Conservative for most of the game. And if things get rough near the end of the match, you can change it to Aggressive.
If players want to foster a good coach in the Franchise mode, you had better play more matches or complete more challenges for staff points, which can be used to improve the ability of coach in the team. While, if you are also willing to upgrade players of the team, you can
Buy Madden 23 Coins
to get essential equipment for them and enhance their capacities on the field.