Madden NFL 23 Cornerback Guide: How to Select Good Cornerback for Your Ultimate Team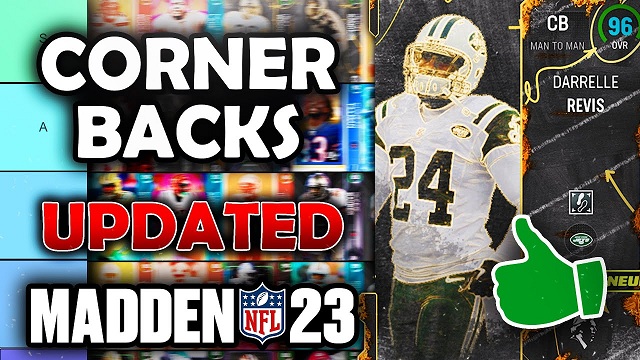 For most football fans, they are so happy that they can play with their ultimate team in Madden 23 Ultimate Team mode. They are willing to build the best ultimate team and win more matches in MUT 23. Cornerback player plays an important role in Madden 23 team. If you want to select a good cornerback player for your ultimate team in MUT 23, you can read this article and find out the right cornerback in the game. Players can use
MUT 23 Coins
to get your desired players from the transfer market and upgrade your team fast in the competitive matches.
Best Cornerback Players in Madden 23
Jalen Ramsey (98 OVR)
The name of the game with Jalen Ramsey is versatility. The undisputed best all-around corner in the game can do everything on the field. His size and speed combination makes him a perfect fit to play the run and allows him to shut down anything that comes his way. As the best cornerback of this era, Ramsey isn't targeted often but makes plays when he is.
He's on his way to a Hall of Fame bid, if all goes as planned, and he stacks up with corners across generations on classic teams. 96 rated play recognition, 98 rated man coverage, and 99 rated zone coverage make him practically the perfect corner in Madden 23.
Jaire Alexander (94 OVR)
Jaire Alexander is a defensive diamond in the rough for a Packers team which is historically found wanting. Alexander spent a chunk of the 2021 season off the field nursing injuries, but he finished the 2020 season as at least one outlet's choice as number one cornerback in the NFL.
Darius Slay Jr. (92 OVR)
Darius Slay won't wow you with wild interception and deflection totals as he ages, but the veteran made his fourth Pro Bowl last year and still competes with the top corners in the league. In 2021, he totaled three defensive touchdowns and was one of PFF's top-ranked corners.
He was rewarded with a 79 catch rating and a 98 zone coverage rating. As he shifts into playing more zone coverage for the Eagles, Slay should continue to be a mainstay on these lists if the surrounding pieces improve.
Stephon Gilmore (91 OVR)
The Associated Press's 2019 Defensive Player of the Year has spent the last few seasons drifting around teams. The former Super Bowl-winning Patriot spend last season playing in Carolina, and will be starting this season and Madden 23 as an Indianapolis Colt.
Marshon Lattimore (90 OVR)
Marshon Lattimore came onto the scene in 2017 and immediately became of a superior defender for the New Orleans Saints. In his rookie year, Lattimore was named Defensive Rookie of the Year and made the Pro Bowl.
Since this time, he hasn't slowed down. In fact, he's made the Pro Bowl for each of the last three years in a row. Opposing QBs know not to test him, which prevents his stat box from being stuffed, but he's always good for a few deflected passes and picks each year when the passers forget about his power. The Saints are having a rough go of it this year and much of that is due to an extended injury to Lattimore's abdomen. New Orleans needs him back soon.
If you are still looking for good cornerback players for your ultimate team in Madden 23, you can look through these players on the list and select the right one for your team. While, some high rating players are not easy to get in the game, you can
Buy Madden 23 Coins
to purchase them from the transfer market, good cornerback player will improve your team performance in MUT 23 matches.