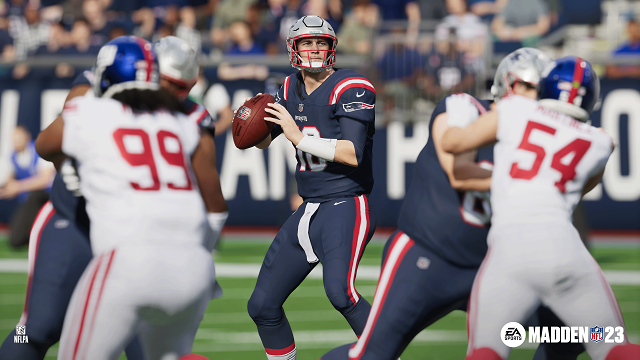 When players play matches in Madden NFL 23, they may make different kinds of mistakes in the process of matches, which leads to the loss in the end. If you want to win more matches in Madden NFL 23, you should figure out the normal mistakes on the court and know how to avoid them in the game. We are going to list some normal mistakes players often made in Madden NFL 23. Meanwhile, it is a good choice to level up the Madden Team with the help of
MUT 23 Coins
, which improve its overall rating in Madden 23.
Normal Mistakes Players Made in Madden NFL 23
Players often keep pressing the sprint button
Your instinct may be to sprint whenever you have the ball in your hands, but it's not always the best idea. Sprinting negatively affects your ability to make cuts or perform other moves at their fullest, such as jukes and spins. Instead of constantly holding down the right trigger, use it in the open field or right after you make a cut through the hole as a running back or kick returner. It'll help you get defenders out of position as you turn on the afterburners and leave them whiffing on a tackle.
Players often focus on running into the Ball Carrier
Although there have been multiple ways to tackle, the best and safest way was to just run into the ball carrier. Trying to strip the ball felt useless and slow while the hit stick had become a total liability with its limited range and success.
Thankfully, alternative tackle moves are back. The hit stick feels better than ever and offensive players with the ball can be stripped of the ball in the middle of their animations. The action doesn't end at impact, try driving the player back or swiping at the ball on impact.
Players often forget to customize the settings
Although the default settings will work for most people. But is the game supposed to merely work? Or is it supposed to be fun? Certain aspects of Madden NFL 23 are great and others are terrible, many of these gameplay issues can be mitigated with some tinkering.
If players weren't supposed to mess with the settings, the game wouldn't let them. The multiplayer settings are fixed, so it's not like making something easier or harder is cheating. By not getting these perfect, players only cheat themselves.
Players allow AI to control cornerbacks on the court
When the ball is released, the first thing players should do is control the nearest cornerback or safety. If left to their own devices, the computer-controlled player will not speed up or act like there is any issue. The best wide receivers are automatic touchdown recipients when left to their own devices.
Furthermore, the computer is terrible at catching picks, even if it seems like an easy snag. Yes, defenders aren't known for incredible hands, but there are some very simple catches that the AI just can't do. Human-controlled defensive backs fair much better.
Players ignore the mix of running and passing on the court
Whether playing against the computer or another player, a mix of running and passing plays is the smart way to win. Before this year, gamers would get an elite running back with some beastly offensive linemen and just run all day.
Now, running and passing have been balanced out. By keeping the opponent guessing what kind of play it is, they'll never know what kind of defense to use.
We have listed several normal mistakes players often made in Madden 23 matches, and we expect you can check them and avoid the mistakes if you had. Then, your skills of playing Madden 23 will be enhanced. In addition, if you are willing to get more good players for your team, you can
Buy Madden 23 Coins
to select the players you need in the transfer market.