Fortnite Season 4 Guide: New Weapons and How to Get the Spider-Gwen Battle Pass Skin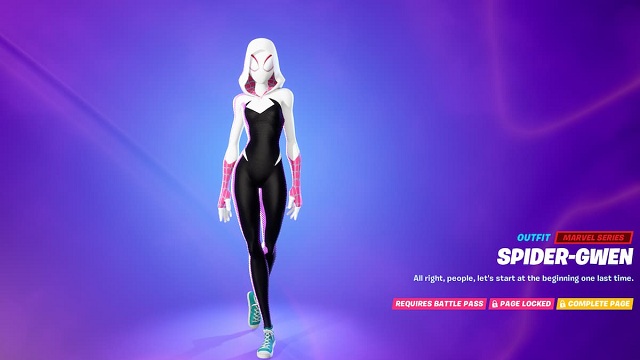 Many Fortnite lovers are excited about the update of Fortnite Chapter 3 Season 4, they have access to complete new challenges or events and experience the new skins or weapons at the same time. Many players are interested in the Spider-Gwen skin, and want to know how to get it. You can read this article to know the guidance. Players can get
Cheap Fortnite V-BUCKS
to unlock their desired skins or items from the Fortnite Shop easily.
New Weapons in Fortnite Chapter 3 Season 4
EvoChrome Shotgun
EvoChrome Burst Rifle
The two new weapons in Fortnite Chapter 3 Season 4 are the EvoChrome Shotgun and the EvoChrome Burst Rifle. These chrome-infected weapons have a unique upgrade feature that hasn't been seen in Fortnite since the Sideways Rifle and Minigun. However, instead of needing Cube Monster Parts or Gold Bars to upgrade, the new EvoChrome weapons only require damage.
Players will only be able to find EvoChrome weapons in Chrome Chests, a new kind of loot container that is fairly easy to find in any area that has been affected by Chrome, such as Cloudy Condos, Herald's Sanctum, Lustrous Lagoon, or Shimmering Shrine. Alternatively, players can create their own Chrome Chests by using a Chrome Splash item on a normal chest.
How to Get the Spider-Gwen Battle Pass Skin
The only way you can get the Spider-Gwen Skin is to purchase the Battle Pass. You can get the Battle Pass for 900 V-Bucks. With this unlocked, you can now work to earn the Gwen Stacy Fortnite skin. This is still not something you will achieve right away, though. The Spider-Gwen skin is a Battle Pass Page 10 Reward. It requires 9 Battle Stars to unlock. Before this, you must unlock Page 10 in the first place. You have two options to achieve this:
Collect 90 Battle Pass Rewards
Reach Level 90
The Marvel Series Spider-Gwen is a skin exclusive to the Chapter 3 Season 4 Battle Pass, costing nine Battle Stars on Page 10. Players will need to own every other item on the page before being able to purchase Spider-Gwen, ultimately making her the pass's final reward. Though, you can expect to earn other Spidey-themed goods while you work your way toward her. Page 10 even carries her own dedicated Banner Icon, Harvesting Tool, Emote, Loading Screen, and Glider.
Players who are comfortable spending their V-Bucks can purchase the entire Battle Pass and unlock Spider Gwen in a single go. It costs 150 V-Bucks to rise through one level. They will have to pay depending upon their Tier level.
Fortnite also has a provision for players where they can rise through 25 levels instantly. The Battle Bundle, which costs 1850 V-Bucks, can help them move forward by a quarter of the entire Battle Pass. However, it applies to those at level 75 or lower. Plus, it can only be redeemed once per season.
Many players are happily collecting the beautiful skins for players in new season, though they have to spend long time on questing or completing challenges. If you want to unlock these skins quickly in Battle Pass, you can
Buy Fortnite V-BUCKS
to purchase extra Battle Pass levels in the game, which means that you can experience skins earlier than others.