Genshin Impact 3.1 Best Cyno Guide: Best Weapons, Artifacts, Teams for Cyno Build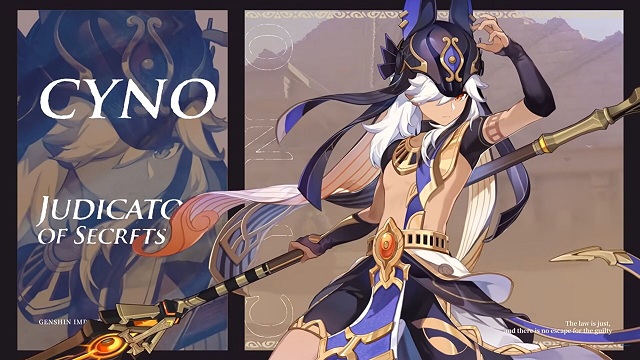 Several new characters from Sumeru come into Genshin Impact with the release of 3.1 version. The first five-star character called Cyno is one of the most attractive characters among players. Players want to know how to build the best Cyno in Genshin Impact 3.1 version, you can read this article and learn from the guidance in detail. Players can use
Cheap Genshin Impact Crystals
to unlock more new characters in the game.
Cyno Main DPS Build
It is time to use the damage potential of this character to make him the main damage dealer of your party. Cyno's entire kit is based around him being a selfish DPS. This is because he doesn't provide any buffs for the party unless you use some special weapons, constellations, or artifact sets on him.
Cyno's ascension stat is Crit DMG, which makes it much easier to have a good Crit ratio on him. But, this also pushes you to get a better ratio than any other character. Primordial Jade Winged-Spear can be perfect to help you with that.
Best Weapons for Cyno: Staff of the Scarlet Sands
4-star alternative: Deathmatch
Staff of the Scarlet Sands is a new polearm introduced in Version 3.1, and unsurprisingly it's an excellent choice of weapon for the version's brand-new polearm wielder Cyno. With this polearm equipped, Cyno will gain a huge percentage of his Elemental Mastery as an ATK bonus, with another EM-scaled ATK bonus popping in for 10 seconds whenever Cyno's Elemental Skill hits an opponent.
However, a brand-new 5-star weapon isn't necessarily the most attainable thing in Genshin Impact, especially if you've just depleted your wishes getting Cyno in the first place. The Deathmatch makes for a strong 4-star alternative for Cyno: it grants him increased ATK when facing off against a single opponent, or a mixed increase to ATK and DEF when in the vicinity of two or more opponents.
Best Artifacts for Cyno: 4 Thundering Fury or 4 Gladiator's Finale
Since Cyno's Pactsworn Pathclearer burst state infuses his attacks with Electro and lets him use his elemental skill to deal big Electro damage, you'll understandably want to buff his Electro output. Two pieces of Thundering Fury increase Electro damage by 15%, while four-pieces boosts the damage caused by Electro elemental reactions.
When these reactions are triggered, elemental skill cooldown is decreased by one second. Considering you're going to be building Cyno with elemental mastery for that passive damage buff he gets, this is a great way of also strengthening any reactions you cause, and letting Cyno use his skill more.
That said, if you want to focus purely on attack, you can also do that with Gladiator's Finale, buffing attack by 18% for two-pieces, and normal attack damage by 35%. You could also mix and match between the two. For stats, you'll want an artifact with an Electro damage bonus substat, then elemental mastery, attack, and crit damage to take advantage of your weapon's crit rate increase when you're not causing reactions.
Best Teams for Cyno
With Cyno positioned as a melee Electro DPS, he'll thrive under Elemental Reaction-based teams but can still be as effective in a non-Dendro team setup in Genshin Impact. In contrast, his DPS output and Elemental Scaling potency will significantly weaken compared to Dendro team compositions.
Cyno will best work with characters that sustain long durations of Dendro applications when off-field, without spending time on-field to recharge their energy. While they aren't many options available, Cyno can be paired up with Dendro Traveller, any Electro character for the double Electro off-field DPS like Fischl and Zhongli to increase Cyno's survivability on-field or gain a higher DPS healing from Kaedehara Kazuha.
If players want to build the best Cyno in your team, you can experiment this guidance quickly in Genshin Impact. And you can also
Buy Genshin Impact Genesis Crystals
to select the best weapons for Cyno, which helps Cyno improve his overall stats in Genshin Impact.