Helicopters And New Flint-Knock Pistols Are Coming To Fortnite And Here's A First Peek At The New Detonation Mode
As we know, at the beginning of Fortnie Season 8, a lot of vehicle have been vaulted, including the plane or helicopter. However, according to a recent leak of the new game files,
planes would be returning to Fortnite at some point
. In addition, the upcoming
Fortnite Patch Notes V8.30
is going to introduce
a brand new Flint-Knock pistol
to the game. Over the last weekend, the famous Fornite Youtube streamer Ninjia and K-Pop group iKON worked together and held special "Ninja x iKON" event, gifting users a new method of play for a limited time and showcasing
Fortnite's new Detonation mode
. Keep on reading for further details on those Fortnite new updates.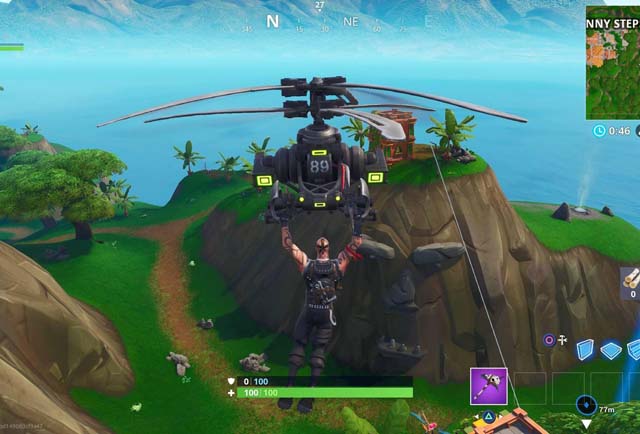 The Return of Planes
an army-looking Helicopter has seemingly been slowly traveling around the map. It was first spotted in the north-west of Sunny Steps, on top of a mountain, surrounded by a few volcano vents and smaller version of expedition outposts. Now it had moved to a hillside overlooking Lonely Lodge.
What it all means is not yet known, but it will surely bring Fortnite players a lot of fun. some fans on social media still feel like this is a sign of either next season's content or the return of flying vehicles in a future season update. So, stay tuned to
5mmo.com
and we will keep the story updated.
The Addition Of New Flint-Knock Pistols
Another brand-new weapon, the new Flint-Knock pistol is on its way to Fortnite: Battle Royale. The official description simply reads "Be careful,It's got a kick to it." fans have been waiting for this new weapon for a long time since it first appear since it was first seen in the Fortnite Season 8's loading screen at the start of the new season. To unlock more weapons and traps, come to
5mmo.com
for various
Cheap Fortnite Items
. With a coupon code "
5MMO
", you can enjoy 3% off.
So far, the stats and damage of this new weapon have already been leaked out now. It seems that this new weapon will come in two variants - Common and Uncommon. The Uncommon variant will deal 90 damage at point-blank distance and 36 at long range, while the Common version will deal 86 and 34.4 damage respectively. The reload speeds of the two variants will be 3.045 seconds and 3.19 seconds respectively, and both weapons will use Heavy Bullets for ammo.
The New Detonation Mode
Over the last weekend, the famous Fornite Youtube streamer Ninjia and K-Pop group iKON worked together and held special "Ninja x iKON" event in New York city and Epic showcased a completely new game mode called "Detonation." By buying the Samsung Galaxy S10 line of devices, players are able to unlock a new "iKONIC"Fortnite skin. Have you attend it?
The new detonation mode will put two teams: Attackers and Defenders against each other in a race. Attackers have to destroy two objectives on the map, while defenders must protect the objectives for a grueling 10 minute time limit.
That are all the latest updates you need to know about Fortnite Season 8. For more news and guides on the game, stay tuned to
5mmo.com
.