How to Complete Fortnite Halloween Part 3 Challenge: Destroying Cube Monster, Cube Friends And Cube Brutes
As we know, Fortnite Halloween event "
Fortnitemare
" is already underway which introduces a bonus set of Challenges and a new way of playing Battle Royale mode. Aside from the innovative challenges, it also comes with bounty rewards. For winners who complete the challenges can receive exclusive rewards such as new skins, new back blings and so on. At the moment, the Halloween event challenges have already been revealed now. For most players, they seem to have difficulties when completing
challenge part 3
. So, in this article, we would provide some hints to help you complete the challenges more easily.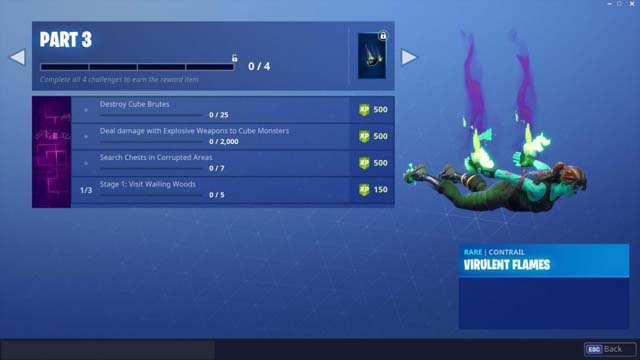 Before we going on, for those uninitiated, let's take a look at what the part 3 challenges require us to do. You can check the image above. As it show, the first challenge requires Fortnite Battle Royale players to destroy 25 Cube Brutes. Cube Brutes are bigger cube monsters that are slightly more difficult to eliminate than Cube Fiends. To complete this challenge, you will need to visit a corrupted area and wait for the cube to spawn monsters. After that, all you need to do is to wait for bigger ones and take them down.
In the second challenges, Fortnite players are required to deal damage with Explosive weapons to Cube Monster. Cube Monsters is the name for all classes of these Cube creatures. Specially, they often appear as Cube Fiends, which are like regular zombies or Cube Brutes, which are the larger more durable variety and is mentioned in the first challenges. There are also Elite and Mega varieties. Each defeated Cube Monster increases your shield - and the tougher they are, the more they replenish. They lurk in the corrupted areas on the map. They are quite persistent in following you. So keep your wits about you when you fight with them. Since almost all the explosive weapons deal 100 or more damage, so the challenge could be pretty easy for you. So as long as you hit the monsters on the right spot with your explosive weapons, you can deal damage to multiple monsters within short time. If you need Fortnite materials, weapons and other
Cheap Fortnite Items
, come to our website:
5mmo.com
, where you can use the code:
5MMO
for a 3% discount and make a cheap deal.
Besides, you need to remember that those cube monsters only count as a kill for the player who got the last hit on them, so if you're in a squad and both you and a friend hit one, only the one to get the final kill will have it count towards their total for the challenge. In addition, you can also do damage to them by using your vehicle. Of course, you can't just kill them with your vehicle. However, when you want to approach a Cube Fragment hot, one or two monsters may run over, so you jump out then finish them off with a weapon.
The third challenge requires you open seven chests in corrupted areas to complete it and get 500 Season XP. Since these areas spawn up to three chests, the challenge is very easy and can be completed in three or four matches.
Finally, it is a staged challenge where Fortnite players will have to visit certain areas five different areas on the map. The first destination is the Wailing Woods. After you visit all the 5 spots, you can get a reward for 150 Season XP. Now we're wrapped up with this part 3 challenge guide. Hopefully, it would be helpful when you complete those challenges. Want to look out for more on Fortnite challenge guide, stay tuned for our website:
5mmo.com
.