Fortnite Season 8 Week 5 Challenges Complete Guide And Week 5 Secret Battle Star Location 
The latest Fortnite weekly challenges,
Fortnite Season 8 Week 5 challenges
are live now, meaning new ways to earn experience points and find secret battle star. So, what's in store for Week 5? Are they challenging? Well, here's a first peek at what you're gonna do in this week. As usual, our
5mmo.com
will guide you
how to solve each challenge and where to fins the secret battle star
. Also, if you are in demand of
Cheap Fortnite Top Up V-Bucks
, you can also visit our website. Now, let's jump in.
Free Challenges:
Deal (200) damage with Scoped Weapons to opponents (5)
Search (7) chests at Paradise Palms or Shifty Shafts (5)
Complete a lap of the Race Track in Happy Hamlet (10)
Battle Pass Challenges:
Get (15) bounces in a single throw with the Bouncy Ball toy (5)
Stage 1/3: Gain (50) shields from Mushrooms (1)
Stage 2/3: Gain (100) shields from Small Shield Potions (2)
Stage 3/3: Gain (100) shields from Shield Potions (2)
Use a Volcano Vent, a zipline, and a vehicle in the same match (10)
Eliminate (3) opponents at Pirate Camps (10)
How To Compete All The Challenges?
let's begin with Free Challenges. First, you are tasked with dealing damage with certain weapons. We've seen this over thousands of hundreds times. So, it is really not difficult. The following is a full list of all scoped weapons available in Fortnite. Then it's a chest opening challenge: Search 7 chests at Paradise Palms or Shifty Shafts. So try to land at whichever location is furthest from the Battle Bus. Aim directly for a chest spawn and then rotate to as many chests as you can before competition arrives. If both locations are within close proximity of the Battle Bus, Paradise Palms has more chest spawns in general and isn't necessarily trafficked more due to being further from the centre of the map. Prioritise Paradise Palms in this case. Last, you have to complete a lap of the Race Track in Happy Hamlet. Just north west of Happy Hamlet is a race track that will have a bunch of driftboards available to you. Head here and hop on a driftboard, start a lap, and then go around the track once to complete the challenge! Alternatively, you can also use The Baller to complete this challenge.
Scoped Weapons:
Suppressed Assault Rifle
Suppressed Submachine Gun
Suppressed Pistol
Suppressed Sniper Rifle
Scoped Assault Rifle
Thermal Scoped Assault Rifle
Scoped Revolver
Heavy Sniper Rifle
In term of Battle Pass challenges, the first challenge is pretty interesting. Note that only players at or above tier 26 can unlock the toy. If you are qualified, just find or create a enclosed area and throw the ball. 15 bounces are very quick to finish. Here comes a multi-stage challenges which wants you to gain shields from first mushrooms, then small shield potions, then big shield potions, and you have to do it in that order. In Mushrooms, you can find shields in the eastern forest near Lonely Lodge, in Dusty Divot, or the forest west of Pleasant Park. Using a volcano vent, zipline and vehicle in a same match could prove a bit tricky. You can check the video above to see how to complete it easily. Finally, you need to kill people at Pirate Camps. Here's map of all the Pirate Camps locations on the Fortnite map, along with a video showcasing the week 5 secret battle star location.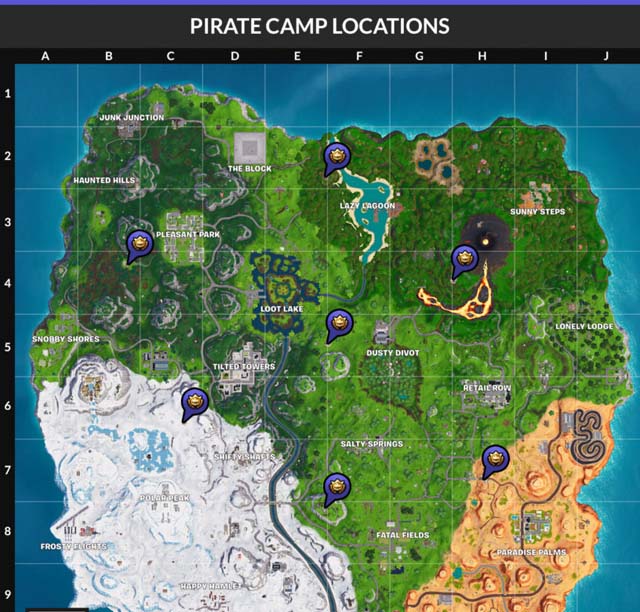 We wish the best of luck in completing this week's challenges and hop you find your way to the hidden treasure. Be sure to stay tuned for
5mmo.com
.