After you have earned your first official promotion in the
Enclave in Fallout 76
, it's time for you can set out on a new quest:
I Am Become Death main quest
in Fallout. Generally, this quest tasks you to track down a nuclear launch code and prepare to fire your first nuclear missile. So it is pretty hard to finish, especially for beginners. So to save you time, this guide will show you how to complete the quest step by step.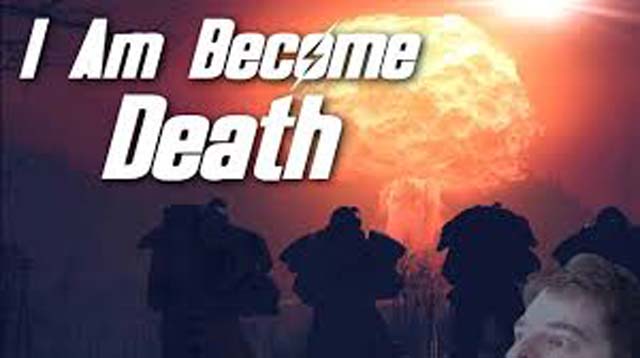 I Am Become A Death Quest Overview
1 . Go to the Whitespring Command Center
2. Head to the Command Room inside the Whitespring's Bunker
3. Activate the Nuclear Keycards in the room
4. Complete all 4 Nuclear Training Tutorials
5. Head to the door next to the buttons
6. Use the MODUS Command Terminal inside the room
7. Complete the Hide and Seek and Destroy Sub Quest to get a Nuclear Keycard
8. Acquire a Nuclear Code Piece
9. Track down information about the code encryption
10. Search the Archives for info on the Launch Code encryption
11. Launch a nuke from any silo (Decrypted Launch Code Required)
12. (Optional) Nuke Fissure Site Prime (8+ Players Recommended)
How to complete I Am Become A Death Quest?
Step one, you need to head to Whitespring Command Center,which is located just south of the Whitespring Resort. You can find it easily when using the Whitespring Resort are your landmark.
Then head towards the hallway to the Brig, You will find another hallway next to it that will leave you to the Command Center. Then go to the Whitespring's Bunker and find the commander room. From there, turn right and pass through the laser grid into the Command area. You now need to use four different terminals, each of which explains a different part of launching a nuclear missile. Herein, we recommend you to work with others, since tracking down a nuclear launch code and launching a nuke is time-consuming for solo players. For
Cheap Fallout 76 Bottle Caps
, choose
5mmo.com
, a reliable, cheap online in-game currency store.
Now it is time for step 6: using the MODUS Command Terminal inside the room. To finish it, you need to go into the back area of the room and use a terminal to access Ellen Santiago's archive. In this terminal, select "The Code Pieces," to receive the Fujiniya Facility Password. If you don't already have a Nuclear Keycard or complete launch code, you use the Surveillance System terminal nearby to track these down. You'll need to retrieve both before you can progress.
Then you neef to acquire a Nuclear Keycard and Launch Code. To finish this, you need to complete a side quest in order to progress with "I Am Become Death". Here, you will need to bring find a Nuclear Keycard first, and you'll need to retrieve it from a Vertibot somewhere in Appalachia. Next, you need to obtain a complete launch code. To get a launch code, you need to assemble eight Nuclear Code Pieces which are held by random Ghouls and Scorched Officers across Appalachia. You can use the Whitespring Bunker Surveillance System to track down those ghouls and officers with nuclear code pieces.
After assembling the Code Pieces, you still require a cypher key to get a Launch Code.You can find clues to help with deciphering the Code Pieces in The Whitespring Bunker command centre to help you find the cypher key. The code solution changes every week, however, rendering old codes obsolete. Now that you have a Nuclear Keycard and a Launch Code, you need to head for Mama Dolce's Food Processing, which can be found in the Forest.from there you can find the Fujiniya Intelligence Base. You can access it via a hatch in the side of a pipe on the southeastern corner of the Mama Dolce's building. Get to the bottom floor of the base, from where you can find a room with some tables and pale blue machinery with a terminal behind it. Use this and access it with the password you got at The Whitespring Bunker. Then the quest is done.