Fallout 76 Atoms
is a currency used in the Atomic Store to purchase various cosmetic items including paint jobs for Power Armor, leather jackets and dresses, and decorations for your base. There are two main ways to earn atoms in Fallout 76. One is to
purchase with real word money,
the other is to
earn atoms by completing various challenges
in the game. Well, no matter whether you want to drop your hard earned cash on cosmetics for a game or not , in this article, we will show you how to earn easy and fast atoms in both ways in Fallout 76. So, keep on reading.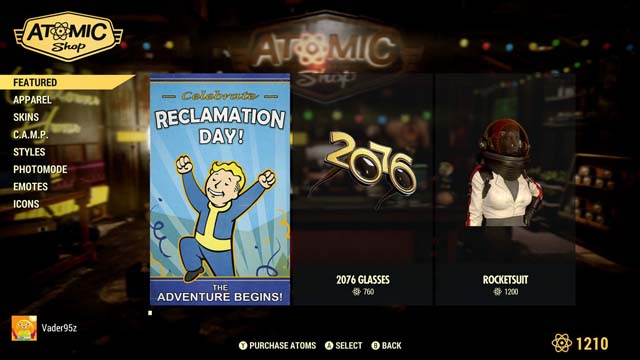 Earn Atoms by Completing Challenges
In the pause menu, players can select the Challenge tab to find all the challenges in the game.
Challenges award anywhere between 10 and 80 Atoms depending on the difficulty and the time it takes to complete. For instance, acquiring 22 different diseases is going to take a long time, so it's worth more than picking a single lock. Speaking of picking locks, lockpicking and leveling it up works a bit differently in Fallout 76 compared to the other games in the series.
Challenges are also divided into different sections: Daily, Weekly, Character, Survival, Combat, Social, and World. The Daily and Weekly challenges, as the names suggest, rotate every day and every week, so there are always Atoms to be earned. The rest of the challenges are available to be completed at any time, and simply require a lot of work and dedication.
Atoms are not so difficult to earn in Fallout 76, since they're earned as rewards for wide range of activities, ranging from basic tasks you can complete as soon as you leave Vault 76 to endgame content. Just try to play the game, and you'll stock up enough atoms. For example, just exploring Appalachia for an hour will earn you 10 Atoms, as will equipping a Perk Card, and collecting a Bobblehead, Holotape, or Magazine. By the way, the challenges that take the longest to complete should be a low priority, as the effort it will take to complete them won't be worth the Atoms.
You can go and check Fallout 76 official website for all available challenges and the Atoms they reward. Use this to plan out a good way to earn more Atoms in Fallout 76, especially if you're looking to pick up something special in the Atomic Store. If you lack enough Fallout 76 Bottle Caps, come and buy
Cheap Fallout 76 Bottle Caps
from
5mmo.com
, a cheap,reliable and fast online in-game currency store. Moreover, you can enjoy up to a 3% discount by using the code "
5MMO
" at our website.
Purchase Atoms with Real World Money
If you are sick of endless challenges and can't wait to buy certain item, then you can purchase atoms with real world money. The following list is the price of Atoms in Fallout of 76. As is standard with most games and online stores, you're unable to buy single items with real cash – you first need to buy a bulk order of Atoms and use that to buy whatever you're after.
500 Atoms – £3.99 / $4.99
1100 Atoms – £7.99 / $9.99
2400 Atoms – £15.99
5000 Atoms – £31.99 on Xbox One / £32.99 on PS4 / $39.99