Lost Ark Game Guide: How to Complete Tranquil Karkosa Abyssal Dungeon Raid in Lost Ark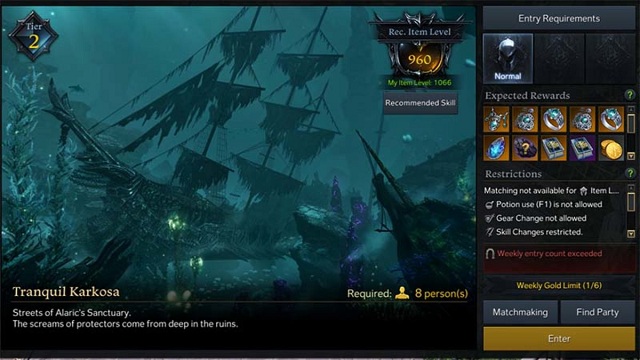 The Tranquil Karkosa Abyssal in Lost Ark is the second of three various Dungeons in the whole Abyssal Dungeon that contains the Gate of Paradise. Compare to Sea of Indolence, Tranquil Karkosa is more complex than it. You have to take care of the different kinds of enemies and bosses in this dungeon. If you want to go through Tranquil Karkosa Abyssal Dungeon safely, you can read this article to know about guidance. Meanwhile, you can buy
Cheap Lost Ark Gold
to equip some essential potions in advance in order to deal with the sudden troubles in battle.

How to Complete Tranquil Karkosa Abyssal Dungeon Raid
Before we get into the breakdown of the Tranquil Karkosa Dungeon, let's see the prerequisites. First off, here is what you will have to do to unlock Abyssal Dungeons. Once that is unlocked, you will need to have 960 Item Level at the very least. So, you and your party should carry Destruction Bomb, Splendid Dark Grenade, Splendid Swift Robe, & HP Potions. One thing that is common from the previous Underwater Abyssal Dungeon is the Breath Circle Mechanic. to replenish your oxygenstand on top of spots with bubbles to refill them. Alternatively, you can interact with the surrounding plants to refill it as well.
The first thing to note in Tranquil Karkosa is the continuation of the oxygen mechanic introduced in the previous abyss dungeon. Once again, a slowly emptying ring will appear above the player's head, indicating their remaining oxygen. To refill this meter, you need to stand on air bubbles or interact with plants that will be marked on your mini-map. Do so, otherwise, you will drown and will have to cheer your teammates on in boss fights.
The very first boss that you will face in Tranquil Karkosa is Kallivan. Kallivan has a couple of tricky attacks in his arsenal. In one of his attacks, he will turn the players into weapons.
As a result, blue lines will appear ahead of random team members. When these lines join, they will create a blast, injuring nearby enemies.
The best way to minimize damage from this attack is to move away from the rest of the team if you are the marked player. Kallivan will lift his gun in his left hand and anchor in his right hand in another attack. A blue and red zone will form on the floor surrounding Kallivan at the same moment. The red region is safe if he lifts his pistol. And the blue region will be safe if he lifts his anchor. To avoid being hit, stay in the safe zones.
First up for the Bosses in Tranquil Karkosa is the Eroded Storm Kallivan, a ghostly pirate captain (not sure how that fits into the "lore"). Kallivan has a lot going on both in his regular attacks and his gimmicks, making him a pretty interesting Boss fight overall. But, in general, players really just need to worry about his Stagger Check and possibly his Anchor or Pistol attack.
When Draikhan reaches 16 remaining HP bars he will begin to charge his wipe mechanic. Draikhan will move to the centre of the arena and the water will begin surging towards him. At this point, the party should move to their assigned positions set out earlier and stand close to the boss. White and gold orbs will begin to form and move towards the boss. You need to block the orb that forms on your side. The party then needs to move clockwise to the next orb, if your previous orb was white, this one should be gold and vice versa. Then repeat this twice more, with each player collecting four orbs in total, two of each colour.
Players should pay more attention to the attack from the fierce bosses in this dungeon, and you need to dodge them to keep healthy in battle. If you need good weapons for your characters, you can
Buy Lost Ark Gold
to get them from the shop in Lost Ark. Some of them are useful and sale in cheap prices.