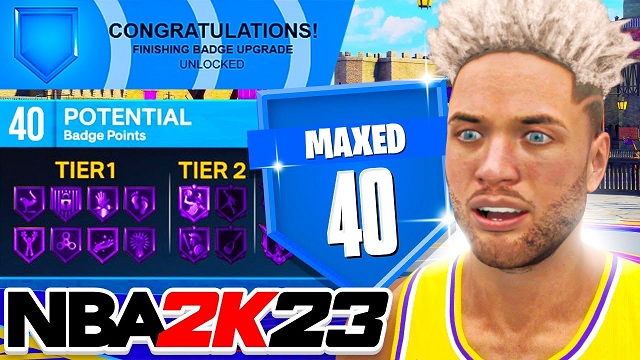 Many players expect to build the best players in NBA 2K23 MyCareer Mode. In order to reach this goal, players should have a deep understanding of badge system in NBA 2K23. If you expect to build the player who can score more goals at the rim, you should pay more attention to the finishing badges. We are going to recommend several good finishing badges for you in this article. In order to build the best player in NBA 2K23 MyCareer mode, players can get
Cheap NBA 2K23 VC
to level up your badges fast and enhance their capacities in the game.
Fearless Finisher Badge
Other than defensive breakdowns and fastbreak opportunities, the majority of layup attempts will be met by some form of resistance. Knowing how to absorb that contact and still convert on layups can open up the offense and possibly get the opposing team in foul trouble.
Equipping the Fearless Finisher badge is the best thing you can do for a Finishing-specific player build. This badge improves your ability to convert contact layups, which will put immense pressure on the defense. Fearless Finisher can also be the difference maker in scoring layups while being fouled, giving you a three-point opportunity. No matter how you slice it, Fearless Finisher is essential for a player's build and the most important in the Finishing category in NBA 2K23.
Slithery Badge
Improves a player's ability to minimize contact when surrounded. It also helps in collecting the ball, keeping it safe, and increases the ability to dribble through a bunch of players. Allowing you to keep the ball in your control, making this badge ideal for Slashers.
When you combine Slithery with Fearless Finisher, you can easily boost your hold-up play. That covers your dribble moves such as dribble pull-ups and going through players contactless.
Dream Shake Badge
The Dream Shake badge is what you need whenever you aren't in a mismatch or when a switch is unsuccessful. Named after Hall of Famer Hakeem Olajuwon, it allows for the player to make defenders bite on shot fakes and increase your chance of scoring underneath the basket.
Good post and ball control is important as well because some big men without this badge usually get stripped off the ball without the Dream Shake. Even with this badge, you want to have at least a decent rating in Ball Control so those pesky guards don't strip the ball on the help defense.
Posterizer Badge
Boosts your ability to dunk allowing you to get more contact dunks. You would need 99 Diving Dunk to unlock the hall of fame tier for this badge. It might seem expensive but, in our opinion, it's worth it.
You can get more consistent dunks over the opponent's defenders when using this badge. This will make you an unstoppable offensive player that defenders have to worry about.
Giant Slayer Badge
Boosts the shot percentage for a layup attempt when mismatched against a taller defender and reduces the possibility of getting blocked. The best finishers in NBA 2K23 are the ones who can abuse a mismatch. The Giant Slayer badge is perfect for those looking to draw a mismatch and score against them at will.
If you have access to unlock these mentioned badges for your player in NBA 2K23 MyCareer Mode, don't hesitate and light them on the badges screen. And you can also
Buy NBA 2K23 VC
to level these badges quickly for your player, which improves the overall rating of players in NBA 2K23. Then, you can control the player to score more goals at the rim.