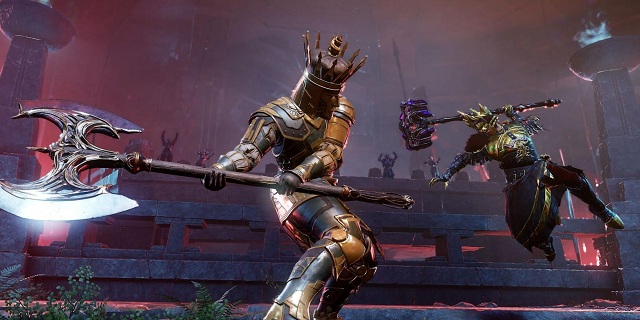 As the introduce of 3v3 Arenas mode in New World, it allows three-man team to fight against other squads for victory. Some PvP-loving New World players are willing to prove their dominance in the battlefield. They want to know tips that help them play well in the 3v3 PVP Arena Mode. This article tells you the guidance that how to win matches in the 3v3 PVP Arena. Players can use
New World Gold
to buy good weapons for their characters,which help them beat more foes in the matches.
Take Mechanics into Account First
At first, players should know one of the most important tips that they need take advantage of the mechanics of PVP Arena in New World. If you can deeply master the mechanics early in mind, you will get a lead in the matches. Here are the main mechanics in 3V3 PvP Mode:
Restricted Runs: Technically, Arena matches are a best-of-three series, wherein players have to win three rounds prior to dominating the whole game. The actual rounds are restricted in scope, wherein a circle of fire will ultimately overwhelm the entire field to compel players to come close together and battle should there be no victors following two or so minutes.
Field Consumables: Players just use Arena-special consumables in the New World matches, guaranteeing equivalent potions suage across players. These Items can be opened into the player's hotkeys and have boundless purposes however have cooldowns. These consists of things, for instance, Arena Health Potions, Arena Regen Potions, Arena Honing Stones, etc.
Learn The Arena Mode Map Carefully
Considering how this 3v3 PvP mode displays in an Arena and pushes players to duke everything out with their abilities, it's significant for players to not simply focus on what items and potions they will utilize yet but pay attention to what the Arena Mode Map offers,too. Understanding the format of the field map can help New World teams to change their buids of characters in the matches. They should know the specific details of field map in this mode.
Flexible Space: Unlike different games where "field" displays in a fairly confined space, the Arena Mode Map for New World MMO players are especially open. They offer sizable room for players to evade and go around, as well as cast wide-enough AOE spells.
Central Pillars: Near the centre point of the field are two huge pillars that players can walk or go around. These are maybe the main items in the map besides sculptures joined to the stone fences that wall off the roundabout guide. They are sufficiently large to give cover and may drive players to stroll around to pursue an objective, particularly in skirmish.
Appeal Foes in Traps
Besides how positioning is significant in the battle of New World is the way players should exploit how some wrong position could be a gigantic slip-up for their foes. More forceful teams need to see how to appeal foes out of their secure zones. They can do this with rather forcing assaults, for example, an AOE on one side and a strong combo on the other.
Doing this can appeal foes into strangle holds or restrict their evading choices, allowing players to set them up in a disadvantageous trap. Players can do this to trap rather portable adversary or lure opponents out in the open.
These tips are useful for players who want to win more matches in 3v3 PvP Arena Mode in New World. If you want to improve the ability of your team, you can
Buy New World Coins
to level up your weapons or armors in order to fight strong opponents in the field.