New World Fishing Skill Guide: How to Level Up Fishing Skills Quickly in New World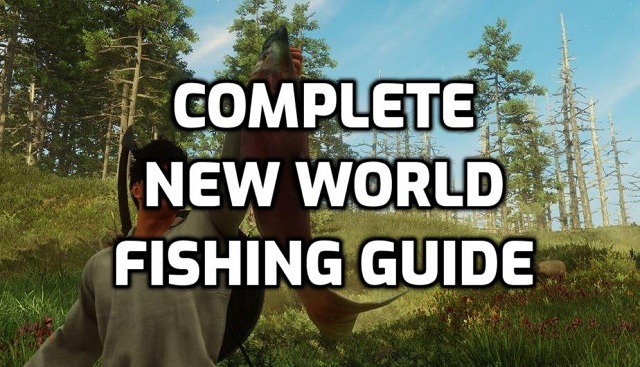 In the MMORPG, players often gather different kinds of resources and making items in the process of completing quests. And in New World, players are willing to focus on gathering and making items instead of completing various quests. So they choose to farm in the filed, mine and hunt in the forest, and fish on the lake. Fishing is a popular activity which players are interested in joining in the gathering activity. It is easy to start in the game, only requiring a basic fishing pole and a normal lake in New World. On the other hand,
Buying New World Gold
is necessary for players in the game, they can use them to upgrade character and trade items with other players.

Fishing in Aeternum for fun and Money
There are a lot of lakes, rivers, and seashores in the continent, which allow players to case a line.
Players can not only pull out the fishes from the deep lake, but also some special item hidden under the water. Things players pull up from the water can transfer into the food, which maintains the basic life in New World. Players even don't waste money on food supply if they keep harvest from fishing. And the marine life from New World can be used to craft plenty of useful items for residents in the settlement. The aims of fishing is to survive well and make profits in the process of travelling in New World.
There are a lot of types of fish for players to gather in New World, such as salmon, perch, mackerel, flounder.etc. Some of them can be salvaged for materials that required for crafting. Players can even use high-level fish to create trophies for their houses in the settlement. Other marine life which are also useful in the process of crafting items. Squid can be used for ink and clams can be made into fish bait or even pearls. What's more, players can randomly fish up treasure chests from anywhere in the water. Treasure chests contains various items which can be trade with other players in the market. It is a good way to gain profit from trading.
The Fishing Skill
Players can master the fishing skill without reaching certain level in New World. They can join the fishing activity from the beginning of the game. Player can only focus on the fishing without doing any other quest in New World. They can make enough money for survival. It is interesting and funny for them to fish on the lake.
Leveling up Fishing Skill
Players can level up their Fishing Skill according to the amount and quality of their fish. They can earn more XP from big fish of uncommon or quality. If the fishing pole is equipped with high level of bait, the chance to catch big fish will increase higher than before. Players should pay attention to speed up the process of crafting or cooking fishing bait in the game.
Tracking Hotpots
While players travel around the continent in New World, their level will improve with their fishing pole. When they reach Fishing Level 2, players will have access to track hotpots which are hided in the wild of continent. These special spots are full of valuable and rare fish, and players can also pull out other special items from the water.
The fishing pole is important in the fishing. Players should ensure that it need to be repaired when they are broken in the process of fishing. It will improve the efficiency of fishing. You can upgrade the fishing pole to catch fish effectively and easily.
If players are interested in joining in the fishing activity, they can learn some exact information about fishing skill from these guide. To gather more kinds of fish, you should craft high level of fishing pole and fishing bait. You can buy New World Coins to upgrade the level of crafting skill to craft suitable gear for your character.
New World Coins
are sale on 5mmo.com.