New World Gear Score: Gear Score Guide and How to increase Gear Score to 600 in New World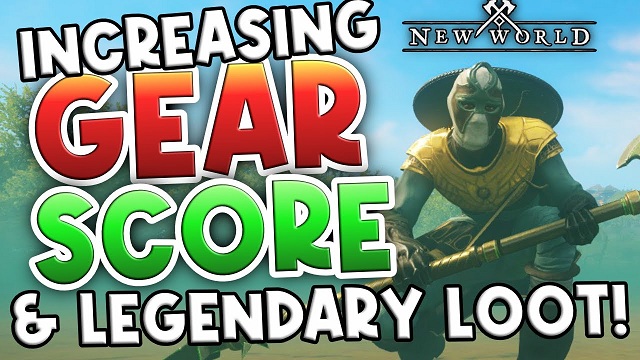 There are three parts of leveling process in New World, including character level, trade skill level, and Gear Score. Your gear score is as important as character leveling in the game, and player are paying more attention to increase their Gear Score when they reach the level cap of 60. If you want to upgrade your character quickly, you can
buy New World Gold
to gain more XP. And you can reach the certain level of quests and be allowed to explore more things in New World.
Gear Score decides the strength of your gear and the overall power level in New World. If you expect to experience more in New World, you should increase your Gear Score as soon as possible. There are some guide about Gear Score and how to increase Gear Score in New World.

What's Gear Score in New World?
Gear Score is an important valve related to every item in New World, which deciding items' base stats and effectiveness in the game. When you gain items in the process of upgrading, you will find that your character's overall Gear Score will add and make you deal with other tough quests.
And when your Gear Score has reached 500, these Gear Score increases begin to slow. It happens when you reach level 60. In New World, the Gear Score Cap is 600. You can increase it by completing Legendary variants of Expedition and arena gear to drop.
How to Get Gear Score Loot As Drop From Enemies
Gear Score Loot Mechanics
Players can get 600 Gear Score Loot only by doing a lot of grinding in New World, but the drop of the rare items are not random. It can be a clear and predictable trend in the game. When players can get dropped loot of a higher Gear Score that they have got previously, the new Gear Score loot will be dropped as a rough maximum.
Where to Find Items with High Gear Score
Players should grind high-level areas in New World to get gear, especially places with level 60 enemies or higher. The Northern region in the map will be the best places to explore and hunt for the high gear score drops. You should pay attention to the Shattered Mountain Region. Players can farm for items and gradually increase their gear score in the game.
How to Increase Gear Score Loot from Crafting
There are lots of differences between crafting works and enemy drops. So players can not mix them together. In order to craft 600 gear score items, players should put legendary tier materials with as many buffs as possible. Players should reach a high level in whatever refining skill they need to use for crafting special items in the game.
Gear Score Loot Farming
Players may find that when they have a normal items in the process of farming, they may get a higher Gear Score in the end through defeating enemies. Through this way, they can increase the chances of getting more higher gear score in return. Due to different items, players can change the type of gear to maintain the chance of gaining the same style of higher gear score in the game. And players can not depend on the chances deeply in the process of farming, the chances of dropping the high gear score is changeable during exploration. They should be careful of this possibility according to their gear score.
Players are eager to increase their gear score in order to have good performance in New World. But, the game is not decided only by the gear score. Players should pay more attention to complete more and more quests to upgrade their character in New World. If you want to get more powerful gears in the game, you can buy
New World Coins
to purchase them in the market. You will find there are a lot of things you can do to improve your character. Cheap New World Coins are sale on 5mmo.com.