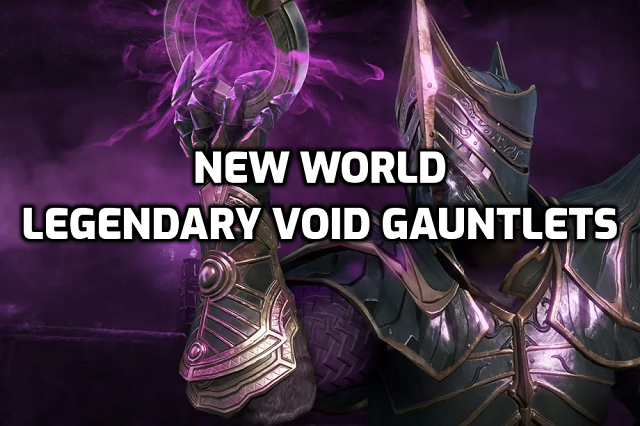 When it comes to the Void Gauntlet, it is well known as an Intelligence and Focus weapon in New World. It also becomes a unique magic weapon that can both make solid damage and provide debuffs for enemies. Players are willing to upgrade this Void Gauntlet in the game, they want to know how to make the best Void Gauntlet in New World. If player need other weapons in the game, you can also buy
New World Gold
to select them for your character.

How to Make the Best Void Gauntlet Build
You have two trees to pick from in Void Gauntlet: Annihilation and Decay. Annihilation converts your Void Gauntlet into a sword, capable of slashing through enemies and holding them down, decreasing their damage and increasing your cooldowns. On the flipside, Decay is a ranged attack where you'll be hurling lobs of destructive power at your foes or using it to enhance your allies and heal them.
All of the Void Gauntlet's passives and active skills are divided evenly between two categories or skill trees:
Annihilation: Encourages a more aggressive melee playstyle. Enhances criticals, healing, and grants player buffs.
Decay: Focuses on applying debuffs to weaken targets and enhance allies, perfect for support players.
Both trees have quite a few passives that lower cooldowns, improve healing, and grant additional avenues of regenerating your mana. Annihilation suits ranged tools like the Life Staff, Fire Staff, and Ice Gauntlet extremely well. Use your back bar weapon to debuff the target or enhance yourself, then push forward with your Annihliaton abilities to take them out. Decay is best used alongside melee weapons or the Life Staff to debuff targets extensively, enhancing the damage of your party. However, dedicated healers shouldn't rely on the Void Gauntlet to solve their DPS woes in solo content.
Life staff/void gauntlet: A healer with a bite
When Amazon Game Studios revealed the void gauntlet, healers throughout Aeternum rejoiced because they would finally have a weapon capable of dealing damage. This build capitalizes on the healing capacities from the life staff and mixes them with the void gauntlet's strong damage potential. This build focuses on healing, but it also gives you enough firepower to tackle content by yourself.
Attribute Distribution: 50 Intelligence, 250 Focus, 100 Constitution. Since Focus is a secondary attribute in the void gauntlet, players need the extra 50 Intelligence to bulk up the damage numbers on the weapon, both for the weapon damage increase and the milestone for reaching 50 Intelligence. If you're looking for more damage and less healing, running 100 Intelligence, 200 Focus, and 100 Constitution is also a good choice.
Armor: This build works with any armor type, but considering how close players have to be to enemies, Medium Armor is a good balance. Light Armor will provide more healing output and damage, but it's riskier.
When using the Void Gauntlet, you have to be careful to keep your enemies close. While it does have a ranged ability, this weapon is far more devastating as a close-range magical weapon, and it's no replacement for the Life Staff if you want to keep your party alive. But it does enable you to switch between the two weapons and deal much more damage than you would with the Life Staff alone.
The Void Gauntlet is a good weapon for players to use in New World, you also need to upgrade it in time. You can
Buy New World Coins
to earn more XP for upgrading your weapon. The powerful weapon will help you a lot in the game.