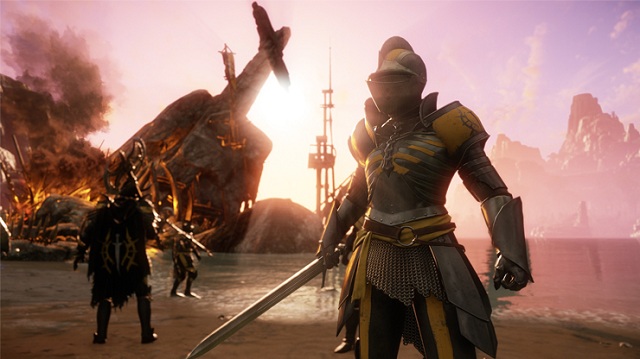 New World has become one of the most popular games for players from all over the world. Many players are excited about taking adventures with other players in this wonderful continent. They also care about the new update of New World and want to know more information about the game. Additionally, players will also need more
New World Gold
for upgrading their weapons or armors in New World, which help them complete quests in the game.
With the start of the new month, the developers will continue to improve on the game, and they have announced the changes being implemented for the February Public Test Realm.
The New World Public Test Realm first launched in November 2021, a couple of months after its release. The game is still plagued with a host of issues and bugs, so having the player community test upcoming content and features would provide the team with valuable feedback and allow them to plan their next steps and priorities when it comes to content updates.
The Public Test Realm (PTR) is a limited-availability server-set that will give players an early look at upcoming features. These preview builds are snapshots of upcoming major releases and are not final versions — you may encounter bugs, crashes, missing text, or other issues. Between our internal testing efforts and your reports, we hope to catch and resolve all serious issues before they reach the live servers. However, not every bug or feedback piece will be actioned on before release — some changes need to be investigated further, and may come in a subsequent patch or two. Nonetheless, hundreds of changes have already been made — with more to come — and the full release notes will be shared on release day.
Most notable among those improvements are updates to combat responsiveness. Weapon swapping should feel more fluid, with players now able to swap during dodges, reactions, using consumables, and traversing the environment. Swapping to a weapon and then queuing an attack or ability is also now possible, allowing player to immediately perform an action after swapping. In addition, the recovery period after dodging has also been reduced.
Though the PTR notes don't dive into specific details, a number of weapon abilities have received "significant reworks." These include the Great Axe's powerful Gravity Well ability, and potent Musket skills like Stopping Power, Sticky Bomb, and Shooter's Stance.
Weapon swapping specifically is going to see an improvement. Changing weapons while performing other actions such as dodging, using reactions, etc., will no longer be interrupted. Adjustments will also be made for dodging, blocking, jumping, and more.
Quality of life fixes are coming to the PvE features, and some parts of the Outpost Rush have been reworked. Some EXP leveling requirements have been adjusted for crafting, and Trade Chat has also been implemented.
Dodging & Blocking
We have shortened the length of recovery for all of our dodges! Dodging and entering into navigation should feel more fluid for all players now.
Basic attack startups for both melee and ranged can now be dodge and block canceled up to 2 frames before the first active frame. This is typically the first animation frame where the damage hitshape activates or the projectile/hitscan object spawns.
Jumping
Launching off lower height objects will no longer trigger a fully-committed landing reaction animation, allowing you to keep your momentum as you move through Aeternum.
Players can learn more information about the new version of New World from this article, and they can take measures to prepare for the changes of the game. You can also
Buy New World Coins
to collect more essential materials for your crafting weapons in advance. There are cheap prices about New World Coins on 5mmo.com.