New World Game Guide: Players Should Know Something About Weapon Mastery in New World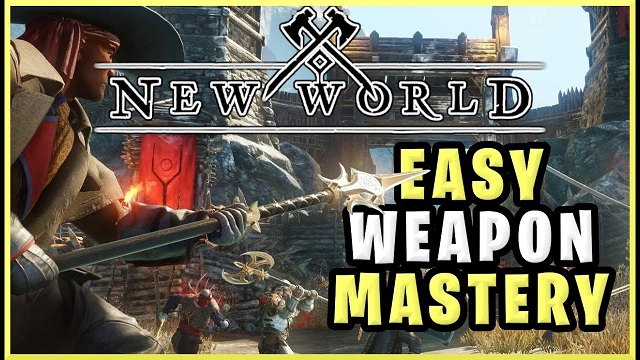 If you expect to show the ability of the best weapons in the game, you need to equip it with your character and use its special skills for questing. Players are fond of playing MMORPG will know that when you have got a new type of weapon in the game, they need to use it to kill more enemies for XP to upgrade. There is a mechanic for players to decide to control the process of weapon mastery in New World. However, when it comes to the guidelines of classes, professions and weapon proficiency. Players often feel confused about the various settings of New World. Meanwhile, players can also buy
New World Gold
to purchase some necessary items for crafting weapons in New World.
Players will find that Weapon Mastery in New World can be customized by themselves. It is one of the best advantages of MMO. They can find the Weapon Mastery Screen under the Character tab.
Players can only choose a few types of weapons to use in New World, but there are a lot of variations for these choices that players will ignore some special features of weapons. They need to learn more about weapon mastery.

Players Can Start to Craft the Common Weapons Early
Novice players may face the strange Aeternum in the beginning of the game. There are shipwrecks and teeming with undead around the beach. Many players may decide to choose a weapon to face the recent scene instead of sticking to the first choice of weapons in the rest of the game.
When players are going to reach the first settlement, they have access to build a camp or visit the former camp that set up for new arrivals. They can choose to craft some common armor and tools. You can gather the required materials like greenwood and flint by your hand around the camp. You can start to craft them early.
Players Should Know Separate Skills With Same Crafting
Although the Mastery Skills between weapons and tools are separate in New World, the crafting skills used to build them are the same. It is important for players to craft tools and weapons as soon as possible in the beginning of New World.
When players craft items like skinning knives, sickles, and other related tools, they can level their Engineering skills. The same skill can also be used to make spears and muskets. Players can craft the most common wooden sword at a Tier 1 level campfire, and it is also the wise way to upgrade the Weaponsmithing Skill.
Players Can Know No limitation of Classes in New World
New world has no limitation of specific weapons and related classes. Players can choose various to equip for character.However, if players wish to have a total change in the Weapon Mastery leveling process, they have to respec which needs to spend Azoth in New World.
The Azoth is the item used and gathered in Aeternum, which can be obtained from harvesting, crafting, enemy drops.Players can use it in many aspects, such as upgrading items, completing quests, and resepccing talent points for weapons. They should try to collect more Azoth if they want to change the stats of weapons later.
Players Should Learn to Know Roles in the Team
Although there is no limitation of classes for characters in New World, players also need to figure out what they should decide the specific weapon mastery build. They can choose to be various characters in the team, such as heals, defends, and controls.
Players will feel more pressured that how to build their character in the team or solo play mode. They need to find the most suitable character to fit for the roles in the group.
Players can learn how to craft weapons quickly and upgrade Weapon Mastery in New World. You will also need to gather a lot of materials for crafting and upgrading in the game. You can
BUY New World Coins
to trade items from the Transfer Market, you will have a good experience on crafting weapons. Cheap New World Coins are sale on 5mmo.com.