New World Items Guide: Players Want to Know How to Get Cinnamon Material in New World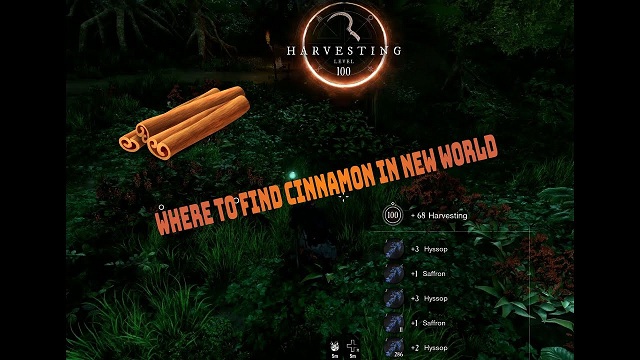 There are a lot of food items which contains a large amount of spices in New World. One of them is Cinnamon. Players can use cinnamon to make food recipes, and these recipes will improve your character through providing relevant buffs. So, players want to get more Cinnamon in New World. In addition, players can also choose to buy
New World Gold
to purchase essential materials for recipes, which can save you a lot of time.
You can find numerous herbs in New World to bring back to a settlement to use at the kitchen crafting station. You'll need these diverse spices to create many of the more complicated recipes. One of the spices you'll need to find in the massive game is Cinnamon. This guide will detail the best locations to find Cinnamon in New World and what plant you need to locate to harvest it.

You want to look for a generic plant called herbs. Like many of the spices in New World, Cinnamon is harvested from herbs, but it typically drops in a specific region. For example, you might be able to find Oregano in First Light, but you don't want to go to these exact locations to find Cinnamon. These are some of the many areas you can find herbs, but the ones that drop Cinnamon will be in First Light, Brightwood, and some players have reported there are herb spawns in Edengrove that also have it.
When finding Cinnamon in New World, you'll need to make sure you have a sickle handy and ready for some harvesting. While you can easily purchase some Cinnamon from any Trading Post that has it up for sale, it's generally a pretty penny. Therefore, your best bet is farming some Cinnamon on your own, which just requires a little bit of patience.
How to Find Cinnamon in New World
You can find Cinnamon by harvesting Herbs in Edengrove, First Light, or Cutlass Keys. When you harvest any herbs in those regions, you have a good chance to also get Cinnamon along with your Hyssop. Edengrove only has 2 spawn points for herbs and therefore it is not recommended to look for herbs or Cinnamon there. Both First Light and Cutlass Keys are excellent choices to farm for Cinnamon.
First Light Best Cinnamon Locations New World
First Light has excellent Herb farming just north of First Light Town. You can farm Hyssop, Dill, Cinnamon, Nutmeg, and Saffron in New World at First Light. Follow the path below for the best farming location.
Cutlass Keys Best Cinnamon Locations New World
Go to Cutlass Keys for Hyssop, Parsley, Peppercorn and Cinnamon in New World. Here is a suggest path to follow to create a nice circuit of Herb farming in Western Cutlass Keys.
Cinnamon is used in a variety of dishes and doesn't reserve itself just for baked goods. You will need it to craft the following recipes:
Apple Pie – Increase Dexterity by 6 and Focus by 4 for 25 minutes.
Braised Wolf Loin – Increase Intelligence by 18 and Dexterity by 12 for 35 minutes.
Candied Melon – Increases your minimum gear score when crafting Jewelcrafting items by 8 for 25 minutes.
Carrot Cake – Increase Strength by 24 and Constitution by 16 for 40 minutes.
Cooked Melon – Increases your minimum gear score when crafting Jewelcrafting items by 5 for 20 minutes.
Players want to gather more different kinds of materials in New World in order to craft more high tier items. If you are searching for other rare materials, you can
Buy New World Coins
to purchase them from the Trading Post. You will accelerate the process of upgrading in New World. There are cheap prices about New World Coins on 5mmo.com.