NBA 2K19 is right around the corner and we are all excited to jump into the next release. With the release of NBA 2K19 right around the corner, the team over at 2K Sports has spent the last few weeks releasing details about what fans can expect in this year's version of the game. Here are the changes you may want to see in the
MyTeam mode
.
The fresh MyTeam Unlimited and Triple Threat modes will feature in
NBA 2K19
instead of the Superman and Pack & Playoffs. MyTeam Unlimited mode lets players contest one-on-one with a lineup of 13 players. When it comes to the cards you will earn and unlock in
NBA 2K19 MyTEAM
, Visual Concepts has streamlined the process. It's also worked hard to make it more transparent. In NBA 2K19 MyTeam, there's now a Throwback option that guarantees a Throwback player in every pack. MyTeam Unlimited will include
Triple Threat
which is a single-player or competitive online 3v3 mode.
The aim of Triple Threat is to beat each of the NBA's teams, one division at a time. The teams here will be made of the best of the best from each franchise such as a Lakers team made up of Shaq, Kobe and Magic Johnson. And for gamers who have been longtime fans of MyTeam, Boenisch also includes the first
Locker Code for the game
.
NBA 2K19 had a really good MyTeam. Arguably the best one to date. Here are some changes players would like to see in NBA 2K19.
More player specific challenges
Things like that challenge you to play as a player you may not favor, and also to have a diverse collection so you can successfully fill the lineup requirements. The players do not have to be G.O.A.T material like Michael Jordan, Lebron James, and Koby Bryant, but maybe score 13 points in 40 seconds with Tracy McGrady, hit the game winning shot and 2K is already really good about these challenges.
Adjustments for pack and playoff
Pack and Playoff was new to NBA 2K18 and it was a great addition. Each position has a pack, and within each pack is five cards. You have to turn two and then pick one. This can be easily done by not having a dramatic difference across the cards, all 5 are amethyst and you can only pick one and maybe you organize the packs by color.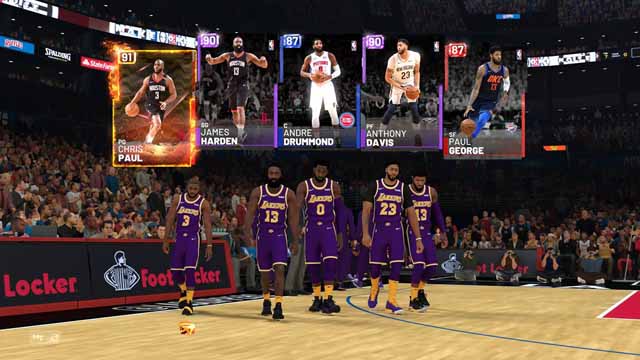 To celebrate the NBA 2K series turning 20 years old,
Visual Concepts
announced the 20th Anniversary Collection. The complete 20th Anniversary Collection will be comprised of 18 cards. Notifications have been added to make sure you're always aware of what is happening with MyTEAM. Whenever something happens in the MyTEAM world , a notification will come up on the MyTEAM main menu. NBA 2K19 pack openings are much more streamlined to give the user a quicker experience and get to the edit lineups menu. Where to Buy NBA 2K 19 Coins Cheap and Reliable? Come to
5mmo.com
now. Cheap NBA 2K 19 Coins and
Safe NBA 2K 19 MT Coins
Collecting the best player cards possible to build the games greates lineup is set to reach new heights in 2K19. With an all-new Unlimited Mode, along with triple threat the game will showcase brand new cards and packs.
The NBA 2K19 edition of MyTeam will include the following changes:
MyTeam Unlimited
- MyTeam Unlimited is an all-new competitive online mode that lets you bring your best lineup of 13 players to take on rivals across the globe.
Heat Check Cards
- These are special cards that provide a stat bonus for 48-hours whenever an associated NBA player performs a great game in real life.
Experiencing the new features, gameplay, and rosters to build your own powerhouse team you can show off and be proud of. And this is why 2k have made it a point to add to NBA 2K19's MyTeam and update what worked well before. The idea that we get to build a team and then play them online against other teams is exciting.