When it comes to online games, people tend to look up what class is best for min-maxing or simply the strongest class to play. Since
MapleStory M
has been launched, a large amount of new and old players alike are checking out the game. If you're a beginner, you might be a little lost when it comes to class selection in character selection. This guide will provide the new players with some useful tips and trick they will need when playing the game of MapleStory M.
The Basics:
Maplestory M is an adaptation of the original
Maplestory MMO for the PC
. It is very loyal and similar to the original game making it very friendly to old players. There aren't as many quests to focus on for leveling so just auto-playing everywhere works. And auto-battle comes in handy against some of the late game bosses.
Nett's Pyramid
, good for getting really rare sets of equipment and golden leaves. And lastly, Star Force Field, The best place for EXP or Meso farming and you can access it as much as you want.
Gameplay Tips:
In the early game, you don't have to worry about crazy good equipment just work with what you can get your hands on. All the powerful stuff will come later toward the end game when you're high enough level to benefit from it. This will speed leveling up a bit for anyone involved with you while you play. And it adds an overall sense of utility as the character.
There are quite a number of differences between the PC version and the mobile version, with the gameplay simplified and optimized for mobile devices. The most notable feature of MapleStory M is the amount of automation that the game allows for.
Before reaching your equipment's Potential
You are able to use gear's potential as long as it is rated between Epic and Mythic. The colors for each rank is as follows:
Normal -- Grey
Rare -- Blue
Epic -- Purple
Unique -- Orange
Legendary -- Green
Mythic -- Red
In Maplestory M, Weapons are probably the most important form of equipment you can get. Armor and stuff are good but that's all defense and doesn't affect how fast you kill things. You want to spend your Meso's on a max damage normal weapon. This will be pricey but after some grinding and selling some items you don't need you should be able to get one with some time. Each class has different weapon types that could be recommended for them. You want good weapons with good stats and these are some of the best for different classes.
MapleStory M–Which Is The Best Class To Use?
MapleStory M has five classes to choose from at the moment and they're all from the Explorer characters. If you love to have the highest DPS especially during boss battles, then you should go with
Night Lord
. That said, Nexon can do a patch at anytime and change the stats of each class. Most importantly, you should go for a class that you actually enjoy playing, rather than just look at stats alone.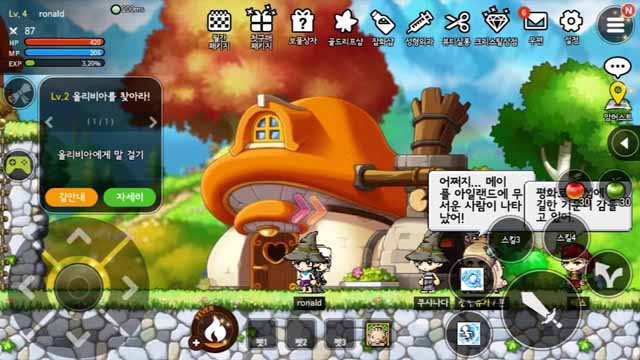 Who should play Dark Knight?
The Dark Knight's role is basically that of both of its counterpart. It's tanky while at the same time, capable of dishing out damages. With a big health pool plus the ability to heal themselves via summons, this class is for those who enjoy dealing high damage without feeling too squishy.
Everything in such a game is obtainable with money and that is making it a much worse game than we have expected. We always provide clients the best price in
Cheap MapleStory M Mesos
, no matter when you buy from
5mmo.com
, you will find it cheapest all the time. If you're not busy chasing monsters or looking for resources in MapleStory M, you'll be doing plenty of mission to pass the time and the main mission is simple enough.