Maplers, The Halloween Event Is Coming, Grab Your Weapons and Hunt Ghouls in The Maple World
Recently, MapleStory M, the free-to-play side-scrolling, massively multiplayer online mobile game for iOS and Android has received a content update as well as
a new "spooktacular" Halloween event, Ghoulbuster
. Those massive updates include an increased level cap, new regions to explore, tons of new quests to complete, new skills to try out and a retooled UI. The Ghoulbuster Halloween in-game event runs from
October 25 to November 8
. During the event period, players can earn event coins by hunting unique new Halloween monsters such as
Mesos Phantoms, Halloween Pumpkins, and Pumpkin Zombies
. Players will be able to exchange coins for special items in the Event Coin shop. Today, our website
5mmo.com
lay out every details of the Halloween event.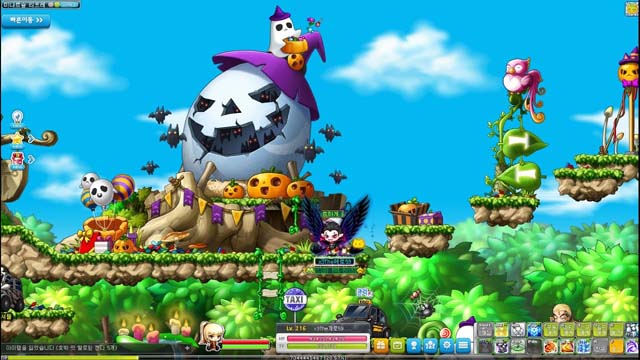 The Halloween Event " Ghoulbuster"
To start hunting ghouls, players over Level 33 must first accept the " Halloween Ghoulbusters" quest from the star event notifier on the left side of the screen. Then, you'll start to encounter ghouls while you're out hunting monsters within your level range (20 levels below and 20 levels above). There are three different types of ghouls, each of which gives out a different reward once you defeat 10 of them:
Frankenbalrogs give out EXP based on your level. The 10th and 20th gifts grant extra EXP!
Pumpkin Zombies give out mesos in amounts of up to 100 million, 500 million, and 1 billion mesos!
Halloween Pumpkins give out 3 Ghost Coins! The 10th gift gives out 15 Ghost Coins, and the 20th gift gives out 30 Ghost Coins!
To receive your Ghoulbusters rewards, select the quest "Halloween, Let's Collect Ghosts!" from the star event notifier on the left side of the screen. You can claim rewards 20 times from each type of monster per day (the daily reward limit count resets at midnight UTC each day). You can also take the Ghost Coins earned from Halloween Pumpkins to NPC Hallowkitty to exchange them for exclusive rewards! NPC Hallowkitty is located in Henesys, Leafre, and Nameless Town, and is open for business at certain time. Otherwise, you can purchase a variety of Halloween themed costumes and masks from the Ghoulbusters Coin Shop, such as Halloween masks, Venezia Dream, Red Ball Mask and so on. Besides, there is also a bunch of bone-chilling damage skins and witchy mounts available for purchase. So hurry up and kill as many as Ghouls as you can. You can buy
Cheap MapleStory M Mesos
from our website:
5mmo.com
, a cheap online in-game currency store. Besides, you can use the code "
5MMO
" for a 3% discount at our website.
Main Content Updates
Level cap increase from 150 to 200. Besides, there are three new regions added for players to explore. The first new region is called Mu Lung Garden which is one of the seven Ossyrian regions that encompasses the towns of Mu Lung and Herb Town. The second is Temple of Time where the past, present, and future all exist within. The last on the list is called Gate to the Future, an area of Temple of Time, where dystopian future versions of Henesys, Ereve, and Perion await. The new quests include the "Hell" mode in Nett' s Pyramid for level 140, "Chaos" mode for Zakum Expedition and "Hard" mode for Horntail Expedition and so on. By completing those challenges, you can receive different rewards.
Maplestory M is available free to play on iOS and Android and the Halloween event runs from October 25 to November 8. So take your time and experience the Maple world in a Halloween style.