When you're playing through MapleStory M, you will need to level up your character in order to take on the tougher challenges that lie in wait. Here's what you need to know in order to level up fast and with absolutely no effort at all so you can carry on with the fun bits of
MapleStory M
and forget about the grind.
MapleStory M knows that it's not ideally suited for touchscreen play, its solutions to the problem end up distancing the player and making for a rather boring experience. The game attempts to remedy this issue with an auto-quest button, you tap it and it'll walk you where you need to go, and even automatically fight the creature you need to defeat. Before you officially start your journey in MapleStory M, you will get to design your very own character. While the options are limited, you can fix how they look and choose from much better options later on in the game.
MapleStory M brings the nostalgic world of side-scrolling
MMORPG
MapleStory to mobile, offering the same endless amount of customization, immersive story lines and epic boss raids that fans have come to expect from the epic franchise. The global launch features 150 levels of content, including:
Battle Function
: This function features the mobile-optimized hunting and leveling with the auto-battle and auto-quest function for each class.
Character Customization
: Players can show off their unique style by customizing their characters' hair color and choosing from all sorts of fashionable items and accessories.
Dungeons
: These unique challenging modes will let Maplers level up and complete quests solo or with friends.
To turn on auto quest in MapleStory M in case you forgot how, all you need to do is tap the quest you want to automatically do. So on the top left corner, you will see all of your active quests and the level requirement. You get two hours of auto battle per day after reaching level 20, and when you run out, you need to buy more time if you want to keep going. In order to get equipment in MapleStory M, you're going to need to open plenty of treasure boxes. You'll get one of these for free each day you log-in, or you can spend 50,000 Meso to buy one.
Guilds are a great way to communicate with other players in the game and help each other out with quests. It's also just plain awesome for cliques. You and your friends can be the coolest adventurers around. To get yourself a mount within the game, as I mentioned before, you simply need to complete some beginner quests you'll automatically get.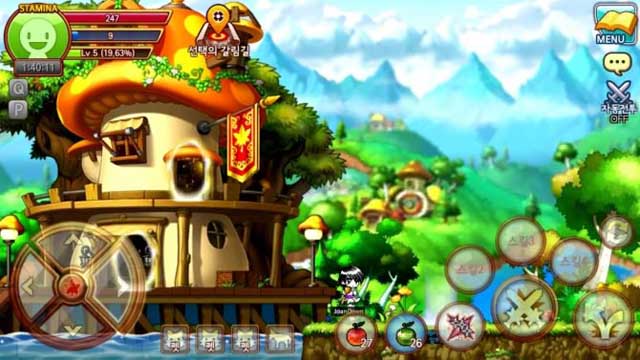 Best Dark Knight Build in MapleStory M
The Dark Knight is one of the many different classes you can play as in MapleStory M. Welcome to
5mmo.com
, with our stable and professional source of the in-game currency, great
Cheap MapleStory M Mesos
are in stock now. Thriving on physical attacks, this class has some incredible defense along with some powerful attacks that do drain your HP. Moving on to the third-tier Dark Knight skills in MapleStory M, you want to invest one skill point on Rush, La Mancha Spear, and Lord of Darkness.
How to Get a Treasure Box in MapleStory M
Equipment in Maple Story M is a commodity that you'll need in no short supply, but don't necessarily have to be purchased outright. Players are actually awarded a single free treasure box each day. These can be accessed by simply heading to a Cash Shop and redeeming the treasure box from the menu that displays the vendor's wares.
That's all of the the various ways to level up fast in MapleStory M above. As MapleStory M is a pay-to-win game, naturally to be the best you have to spend some time and money. However, you can still do well without buying cash, just that it's a longer route for you.