With The Division 2's launch only a few weeks away, recently, Ubisoft unveils a new feature, The Clan System, featured in The Division 2. It's a big step up from the first game's non-existent system,which will make it easier to find and/or recruit players who match your requirements. The new clan system allows up to 50 accounts with four characters each to be part of the clan. Keep on reading for further details on the new clan system in The Division 2.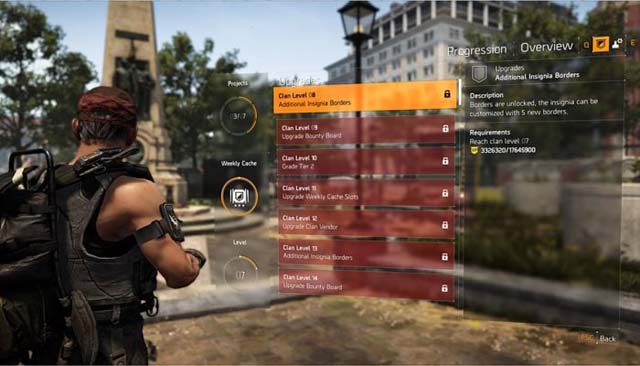 Players won't be able to join a clan from the get-go, but will unlock the ability to feature "early as a part The Division 2's story progression," Ubisoft notes. Clan allows up to 50 accounts with four characters each to be part of the clan. Clans have three different privacy levels (Open, Invite Only, and Private) along with ranks ranging from Commander (the clan's leader) to Recruit (the new guy/girl). The Commander is the head of the clan and so on. Members will be able to leave messages on the clan feed, leaders to pin messages, and coordinate events. There will also be two voice channels for up to 25 members each, allowing you to socialize with each other at all times, regardless of where in the game.

All in-game actions taken by members yielding experience points will also yield clan experience, which is a new form of experience in The Division 2. Clans can level from 1 to 30, unlocking new features and increasing the quality of items you can obtain along the way. They do this by working together on weekly projects and unlocking the caches. There are 3 tiers of reward called bronze, silver and gold. Reaching the bronze tier will unlock guaranteed rewards, while reaching the silver and gold tiers will further improve the week's rewards. Hitting XP goals will unlock three tiers of rewards. For more Cheap The Division 2 Credits, come to 5mmo.com, where you can buy the game at the cheapest price online. Moreover, with coupon code "5MMO", you can enjoy 3% off. So, just have a try, otherwise you'll never know what you've missed out!

If you're not planning to create one featuring your friends and regular allies, a search feature will let you tailor the results to your playstyle, language and region. They include options like like Activists, Most Active Times, Atmosphere, Mic Requirement, Language, and Region.

Finally, The East Wing of the White House will serve as your clan's home, providing you with a space to socialize and regroup. You can hang out with your clan buds, stash items and hit up the clan vendor. The quality of the items offered by this unique vendor will improve as your clan levels up.Higher level clans can also purchase unique cosmetic items that are customized to your clan.

It sounds like there's a lot you can get out of joining a clan this time around. Since The Division 2 is set to release on March 15 th, so you can join a clan or create a clan with your friends until then.