And after years and years of waiting,
Anthem
has finally comes, nearly five years on from announcing the game at E3 2014 and after initially planning a launch at the end of 2018. Now
Anthem is available to download on PS4, PC,and Xbox One
. So, if you haven't, hurry up. Before you dive into the game, here's what you should know before you play the game.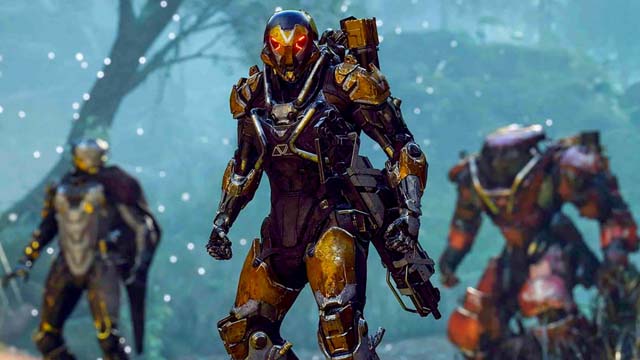 Anthem Release Date For PS4, PC,And Xbox One

The official Anthem release date is February 22 th. and that includes people who've pre-ordered the Anthem Legion of Dawn edition.

Origin Access Premier (PC) - February 15 (Full Game)
Origin Access Basic (PC) - February 15 (10-Hour Trial)
EA Access (Xbox One) - February 15 (10-Hour Trial)
Standard and Legion of Dawn editions (Xbox One, PS4, and PC) - February 22 (Full Game)

Anthem Unlock Time For PS4, PC,And Xbox One

For people who've pre-ordered the Standard Edition and Legion of Dawn Edition of Anthem, they can play the game when it unlocks at the following times: 9 pm PST on February 21, 12 am EST on February 22, and 5 am GMT on February 22.

What Are Anthem's System Requirements?

Anthem Minimum System Requirements:

OS: 64-bit Windows 10
Processor: Intel Core i5 3570 or AMD FX-6350
Memory: 8 GB RAM
Graphics card: Nvidia GTX 760, AMD Radeon 7970
GPU RAM: 2 GB
Storage: At least 50 GB of free space

Anthem Recommended System Requirements:

OS: 64-bit Windows 10
CPU: Intel Core i7 4790 3.6 GHz or AMD Ryzen 3 1300X 3.5 GHz
RAM: 16 GB
GPU: Nvidia GTX 1060/RTX 2060, AMD RX 480
GPU RAM: 4 GB
Storage: At least 50 GB of free space

What Is Anthem's Story?

Anthem is set on an post-apocalyptic Earth-like planet shaped by mysterious progenitors using a mystical tool called the Anthem of Creation—only they forgot to turn the damn thing off when they were finished. For thousands of years, the Anthem of Creation has been a savage world of myriad threats from bizarre beasts and unpredictable weather among stunning natural beauty.

A group known as the freelancers, whose role the player takes on, is tasked with helping the residents of Fort Tars to live another day and traverse the world to fight off forces eager to harness the power of the Anthem for evil ends and ward off colossal monsters.
What Is Anthem Gameplay?

The gameplay in Anthem is somewhat of a departure from BioWare's traditional model but still retains some key aspects. Anthem's combat is group-centric, third-person shooting while piloting a flying Javelin. Therefore, there are four classes of Javelin: Ranger, Colossus, Storm, and Interceptor for players to choose. Each comes with its own benefits and will be unlocked by completing specific missions. Here's a brief rundown of each Javelin:

Ranger is a jack-of-all-trades that can wield all but heavy weapons and can use various grenades and a wrist-mounted launcher to deal extra damage.
Collosus is the tanks of the group and can use heavy weapons but lose access to lighter armaments. Its special ability uses long-ranged artillery and rockets.
Storm is the glass-cannon mage, using two types of 'seals' to cast elemental damage abilities.
Interceptor is the rogue, darting in and out of combat using melee weapons to deal high damage to unsuspecting enemies.

Additionally, there are two progression branches in Anthem: pilot progression and Javelin progression. Pilot progression is character specific regardless of what Javelin is used rewarding points for every mission, kill, and successful sortie into Anthem's colorful world. As you beginners, you must need lots of shards to buy various cosmetics, then why not come to 5mmo.com? We offer the Cheap Anthem Shard Packs here and you can as many as you want. Like any other game, you can also enjoy a 3% off when you input the coupon code "5MMO" when you buy. So, just have a try! As with Javelin progression, it is Javelin specific and Repeated use of a particular type of Javelin amasses abilities, equipment, and rarities. These are then arranged for maximum efficiency depending on the situation. Options are where BioWare is heading with all this to ensure each player can define a loadout that works based on their style and personal preference.