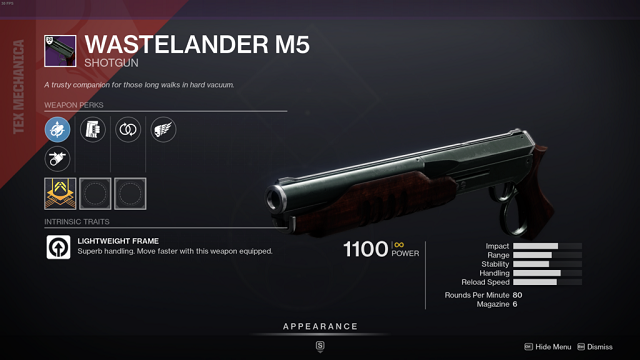 When it comes to The Wastelander M5 Shotgun, it is a new lightweight frame shotgun that players can obtain in Destiny 2. Players are fond of using the Wastelander M5 Shotgun because of its superb handling and mobility. So, they are going to obtain this weapon in Destiny 2. Meanwhile, if you want to upgrade your character in the game, you can buy
D2 Silver
to get enough XP in order to upgrade quickly in Destiny 2.

How to Obtain The Wastelander M5 Shotgun in Destiny 2
Like many of the weapons introduced in Bungie's 30th-anniversary celebration, the Wastelander M5 references one of the weapons featured in Bungie's older games. Specifically, Wastelander M5 is a callback to the WSTE M5 shotgun from Marathon 2. In Marathon 2, players could dual-wield the double-barrel WSTE M5. While dual-wielding weapons aren't part of Destiny 2, the iconic Marathon 2 shotgun can be dual-wield through the All Four Barrells finisher in the Eververse.
The Wastelander M5 is available for all players, regardless of whether they have the 30th Anniversary Pack or not. To get the Wastelander M5, players must complete the new Dares of Eternity matching-making activity and unlock it from Xur's Treasure Hoard in Eternity. While Xur is Destiny 2's Exotic weapons vendor, he also plays a role in the 30th Anniversary Event as one of two prominent vendors in Eternity. The Wastelander M5 is one of six weapons that can be earned from Xur's Treasure Hoard at random.
Wastelander M5 PvE God Rolls in Destiny 2
This shotgun can roll with notable shotgun perks like Trench Barrel, One-Two Punch, Dual Loader, and Subsistence. These are all pretty good. And with a nice mix of rolls, the Wastelander M5 can dominate in both PvP and PvE. WIth the right setup, you can make this gun work in both modes, provided you're willing to get into the face of your opponent.
Rifled Barrel
Assault Mag
Perpetual Motion
Trench Barrel
Perpetual Motion is a great general option for those wanting to zip around the map. Trench Barrel is great for Guardians polishing off enemies. Just rush in and smack them, then pop a round in them to finish the target off. Assault Mag gives you a lot more shots per second, helping you out when there's a lot of targets.
If you manage to get this combination of perks, then you are in for a treat. This weapon turns into an absolute fiend for general activities with these perks. Running around one-shotting red bar enemies that, upon kill, instantly add a round back into the weapon is a beautiful feeling. Coupling this with either Trench Barrel or One-Two Punch, this shotgun will bring major enemies crashing down into dust.
Mobility is critical in Crucible, as players will know, and these perks capitalize on that while benefitting the shotgun. Slideshot is great for getting a quick reload in while sliding into position, following it up with a kill to grant a boost to mobility, range, and handling, thanks to Killing Wind. For those that prefer a more secondary approach with their shotguns, Harmony is a great alternative that improves the weapon's damage and performance after getting final blows with other weapons.
Depending on your setup you have a couple of options. If you like to get in their face, a run-and-gun style with a good amount of range is key. Mobility is critical in Crucible, and you need to always be moving. Being able to hit your target will depend on how good you are at getting that killing shot. Rifled Barrel does increase the Range stat, but at the cost of handling speed, so you need to work on your overall accuracy. Accurized Rounds can help with that. And depending on how well you can kill in the opening or final shot, pick from either Opening Shot or Killing Wind.
There are also other powerful weapons for players to obtain in Destiny 2. You can
Buy Destiny 2 Silver
to select them for your character. You can find cheap price about Destiny 2 Silver on 5mmo.com.