Fortnite Game Guide: Where to Find and How to Knock Down Timber Pines in Fortnite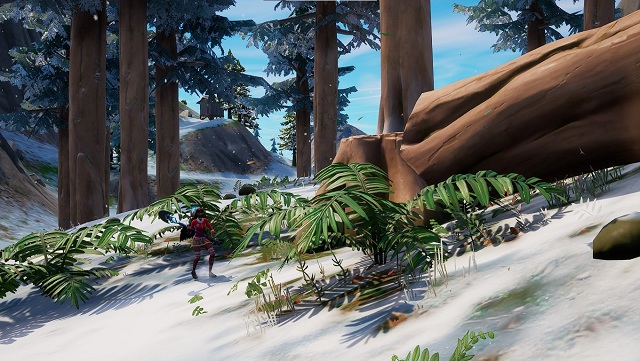 During Week 5 of Fortnite, there are many new challenges for players to complete in the game. And one of the challenges is about knocking down the Timber Pines. However, it is not easy for players to find the location of Timber Pines in Fortnite. Players can learn from this article to know how to knock down Timber Pines. So, if you want to get an unique skin of character, you can buy
Cheap Fortnite V-BUCKS
to decorate it with your character in the game.
Fortnite Timber Pines are a recent addition to the game, and add a fresh twist to the usual harvesting of materials. Appearing as part of the extensive Fortnite Chapter 3 update, these particular trees can be identified by their great height and thick trunks, though their real distinguishing feature is that they can be knocked down rather than being simply demolished like other objects in Fortnite. For one of the Fortnite quests this season you'll need to take on a lumberjack role to chop down five of these trees, so naturally you'll want to know where to find them.

Location of Timber Pines in Fortnite
You can find many timber pines towards the northwest corner of the map, close to Logjam Lumberyard and Shifty Shafts. Look for the tallest trees with the paler trunks. When you hit them enough with your harvesting tool, they will fall over rather than disappear, allowing you to harvest more wood.
How to Knock Down Timber Pines
To knock down Timber Pines, players can use their pickaxe as if they were regularly harvesting materials. One of the best spots to knock down the log-yielding trees is the mountain just north of Camp Cuddle's lake and south of Pinnacle Peak, where there should be around two dozen or so. Once players have managed to knock down a total of five Timber Pines, the quest will be complete. The previously mentioned location is just a bit south of Lt. John Llama, who can sell players the new Shield Keg item, which is also one of Fortnite's Week 5 quests.
Once you've found a group of timber pines in Fortnite, knocking them down is as simple as giving them a few hits with your pickaxe. You can also shoot or explode them, but that will draw attention to you.
If you aim for the tree's weak point, which is indicated by a red dot within a blue circle, you will be able to harvest it twice as fast. With enough persistence, the timber pine will topple. Find four more pines, chop them down and you will have completed the quest.
Be aware that a timber pine tree will damage anything it lands on, including you. If the tree is on a hill or an incline, it will roll down in that direction and take out any other timber pines in its path, which is useful.
You'll need to knock down five timber pines to complete this Fortnite challenge, but you can do it over several matches, so if you don't get a chance to do it all in one go, simply return to the same spot later.
The new Fortnite map is full of exciting locations to explore, but there are also loads of environmental features to take advantage of including timber pines, which are trees that fall and roll over your enemies when destroyed.
As well as being a great way to damage your opponents or even walk across water, you will also need to destroy timber pines to complete one of the Week 5 Seasonal Quests and doing so will earn you a sweet 25,000 XP.
Players who are looking for necessary items in Fortnite can choose to
Buy Fortnite V-BUCKS
in order to collect them quickly in the game. There are cheap prices about Fortnite V-Bucks on 5mmo.com.