Epic Games Plans to Share Fortnite Cross-Play Technology with Other Developer for Free
As a game tycoon with powerful technology in the world, Epic Games announced that they are planing to
share its Fortnite cross-play technology with other game developers
to further cross-play functionality across the video game universe in a post on the Unreal Engine website.
All developers will be able to utilize this technology for free
, and it will be open to all engines, platforms, and stores. Here are further details of the big event.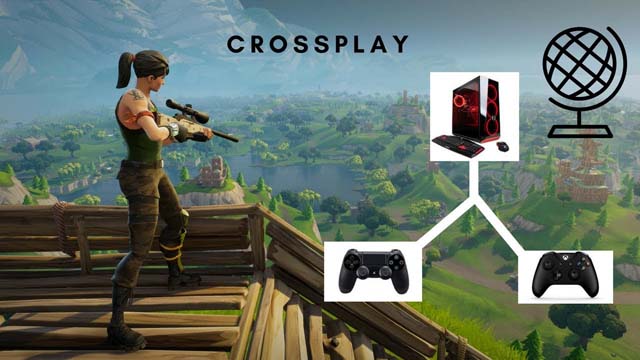 As with the origin of this event, here's how Epic Games states on its official account."These services are expensive to build, test and harden in real-world conditions, but once operational, are relatively inexpensive to scale to more games and more users. At Epic, our goal is to help game developers succeed. Throughout 2019, we'll be launching a large set of cross-platform game services originally built for Fortnite, and battle-tested with 200,000,000 players across 7 platforms. These services will be free for all developers, and will be open to all engines, all platforms, and all stores. As a developer, you're free to choose mix-and-match solutions from Epic and others as you wish."
From above, all developers will be able to utilize this technology for free, and it will be open to all engines, platforms, and stores. For those uninitiated, Cross-play is possible across major consoles including PlayStation 4, Xbox One and Nintendo Switch. But it also supported for Windows PC, Mac, Android and iOS. It's surprising that Epic games will be giving it away at no cost. It could be a milestone in game industry. Want to get more powerful weapons for your character, you can buy
Cheap Fortnite Items
from our website:
5mmo.com
, where you can enjoy a 3% discount by using the code "
5MMO
".
Obviously, this is an extensive process, so Epic will roll out the tech over time. The process will begin with a C software development kit that contains Epic's online services, complete with integration for Unreal Engine--the company's own engine, which is available to license--and Unity, another popular game development engine. From there, Epic plans to expand the feature set, making the following available to developers:
Cross-Platform Login, Friends, Presence, Profile, and Entitlements: Coming Q2-Q3 2019 to PC, other platforms throughout 2019 -- Provides the core functionality for persistently recognizing players across multiple sessions and devices; identifying friends; and managing free and paid item entitlements. This will support all seven major platforms (PC, Mac, iOS, Android, PlayStation, Xbox, Switch) to the full extent each platform allows per-title.
PC/Mac Overlay API: Coming Q3 2019 -- Provides a user interface for login, friends, and other features in a game-agnostic, engine-agnostic way.
Cross-Platform Voice Comms: Coming Q3 2019 to all platforms -- Epic is building a new in-game voice communications service supporting all platforms, all stores, and all engines, which will be available for free. (For developers needing an immediately-available voice solution, check out Discord, Vivox, TeamSpeak, Ventrilo, and Mumble.)
Cross-Platform Parties and Matchmaking: Coming Q3-4 2019 to all platforms
Cross-Platform Data Storage, Cloud-Saved Games: Coming Q2 2019
Cross-Platform Achievements and Trophies: Coming Q3 2019
Undoubtedly, it is a excellent news for gamers who have been clamoring for cross-play to expand for other games and game developers who want to expand games on various platforms.