Fallout 76 Leveling Guide: S.P.E.C.I.A.L. System, Perk Card And How to Level Fast
Fallout 76 offers a new take on the
S.P.E.C.I.A.L. Perks
from the previous games, introducing
a new card-based progression system
that distributes attribute points through card packs. So this time around, when you pick a perk after leveling up this time around, you choose from an assortment of cards that each cost a different point value, and must be assigned to one of the game's SPECIALs skills. To save you time, this guide is designed to help you understand how the new leveling system work and how to level up quickly on your dangerous journey through the irradiated wasteland of West Virginia.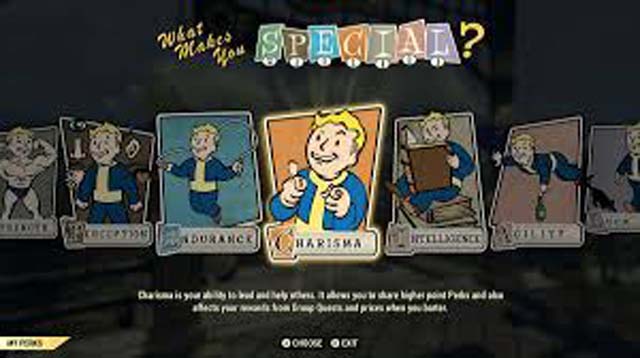 How Does The New Leveling System Work?
First, players need to focus on completing as many quests as possible. By completing a new locations will be discovered and enemies will be killed, all of which reward their own small amounts of experience. After enough XP is earned, players will be able to open their Pip-Boy and select the "LEVEL UP" option to be taken to the level-up screen. Every time the XP bar is filled, another level is added to the character up to the level 50 maximum. This means there are only 50 level-up points available despite each attribute being able to reach level 15. This means players will need to think carefully about where they want to assign these points.For each level up to 50 and beyond, a selection of perk cards are presented and the player can select one to keep.
But before a perk card is offered, players must decide what attribute they wish to increase by one level: Strength, Perception, Endurance, Charisma, Intelligence, Agility, or Luck. Increasing these attributes allows more perk cards and higher ranking perk cards to be equipped in a given slot. As an example, having 8 points in Charisma means up to 8 points' worth of perk cards can be assigned to the Charisma slot. Two rank-3 perk cards and one rank-2 perk card could be equipped to a level 8 Charisma slot.
What's The S.P.E.C.I.A.L. System?
The leveling system in Fallout 76 is known by the acronym S.P.E.C.I.A.L., which stands for Strength, Perception, Endurance, Charisma, Intelligence, Agility, and Luck. These are the available attributes for your character, and each Perk Card represents one of these attributes. You can check the following video for what each S.P.E.C.I.A.L. attribute category represents.By the way, you can buy
Cheap Fallout 76 Bottle Caps
from
5mmo.com
, where you can enjoy a 3% discount by using the code "
5MMO
".
How Does The Perk Card Work and How to Upgrade Them?
Every time a player levels up, they choose one Perk Card, which is only used for the SPECIAL loadout. It's important to know what your SPECIAL numbers are before you choose one of these Perks, to be sure you have the slots to equip it. Gamers can get those perk card from Perk Cards Packs, which contain four Perk Cards chosen at random. All of these cards go into the player's collection. However, not all will be immediately available, since random draws may sometimes give players a card requiring them to be a higher level than they are.Card packs are then awarded at levels 6, 8, 10 and every fifth level thereafter. They are obtained only by leveling up; they're not for sale (for virtual or any other currency) and are not an item found in-world.
The stars in the lower right corner of each card pertain to the card's rank. Each Perk Card can be ranked up individually to provide better bonus effects when equipped. To rank up a Perk Card in Fallout 76, you need to have at least two of the same Perk Card. Keep an eye out for duplicates each time you open a new card pack. To do this, select the card you wish to rank up and press the Rank Up button.
The two cards will combine to create a higher-ranked version of the Perk Card, causing its point value to increase in the upper left corner. Make sure your attribute level is high enough to equip the card before ranking it up, otherwise you'll have to wait before using the new card.