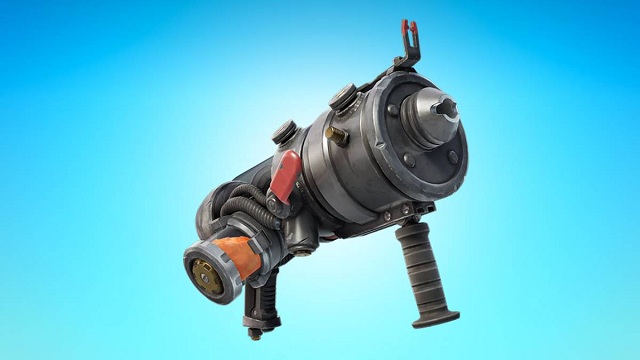 Due to the latest update of Fortnite, a lot of new items are introduced into the Battle Royale Island in Fortnite. One of these new items is a weapon called the Explosive Goo Gun. Many players are interested in this new weapon and they want to know where to find it. In this article, we will give you the guidance about how to get the Explosive Goo Gun in Fortnite. Players can get
Cheap Fortnite V-BUCKS
to purchase battle pass for more interesting items or cosmetics in Fortnite.
What's the Explosive Goo Gun in Fortnite?
The Fortnite Explosive Goo Gun is a weapon that fires out a steady flow of exploding lava, which you can use to rip through buildings and other structures, while incinerating any opponents unlucky enough to get caught in the stream.
The Location of the Explosive Goo Gun in Fortnite
The Explosive Goo Gun can be found in floor loot, chests and supply drops. It is easiest to find in the following locations:
Sleepy Sound
Chrome Crossroads
Rocky Reels
Tilted Towers
Players that are searching for the weapon are thus advised to focus on locations with a high density of those loot sources. While the majority of the named locations on Fortnite's map fit that description, Cloudy Condos, Lustrous Lagoon, and Rave Cave are among the best options. Indeed, there is a tremendous amount of loot to be obtained at these three locations.
Additionally, Explosive Goo Guns can be found in the Supply Drops that will land on the map over the course of a match. These loot sources are much more scarce than floor loot and Chests, though, and players should not expect to encounter them in every match.
How to Use the Explosive Goo Gun in Fortnite
The Fortnite Explosive Goo Gun fires out a stream of gunge that sticks to anything it contacts, before blowing up a couple of seconds later. This makes it great for destroying big structures, though be aware that if you spray a large amount of Goo upwards the initial explosion could cause the rest of it to fall due to gravity, so don't hang around underneath the blast zone.
The Goo Gun works exactly as you'd want it to, covering the opposition or surrounding area in a layer of Nickelodeon-style gunge before exploding a few moments later. It makes for a great defensive weapon because enemies cannot escape the goo once they're covered, so significant damage can be caused without necessarily taking much in return. The only downside to this weapon is that there is no way to re-load should you run out of ammo, but the 200 rounds it comes with should be more than enough, even for the trigger-happy.
The Explosive Goo Gun has 200 ammo, and you'll need to use it up completely before switching to another one. It fires an adhesive fluid-like volatile substance that travels slowly but impacts the surface as soon as it sticks. You can use this weapon effectively to deal high damage to multiple players at once. Each magazine size for the Explosive Goo Gun shoots 20 adhesive substances. With a 20 fire rate, the weapon has a reload time of approximately three seconds. Use it in combination with the Cobra DMR to be safe in both close and long-range fights.
If you are tired of existed weapons in Fortnite, you can try to find the Explosive Goo Gun in the latest update of Fortnite. This new weapon provides the huge damage towards opponents. At the same time, it is enjoyable for players to use it in the game. Players can also
Buy Fortnite V-BUCKS
to unlock more new skins for characters in the game, which makes characters attractive on the island.