Fortnite Patch Notes V7.01 Out Now, Featuring Infinity Blade, Creative Mode, Close Encounters and More
The first patch of Fortnite' s seventh season,
Patch Notes V7.01
is here now and brings a new sword called
Infinity Blade
, which is same name of a series of mobile games Epic just pulled from mobile app stores. It seems that the new sword will completely change how games play out. Additionally, the latest updates features the addition of
a new LTM, named Close Encounters and a few quality-of-life changes on Creative Mode
in Battle Royale, alongside some usual bug fixes. Here are further details of the Patch Notes v7.01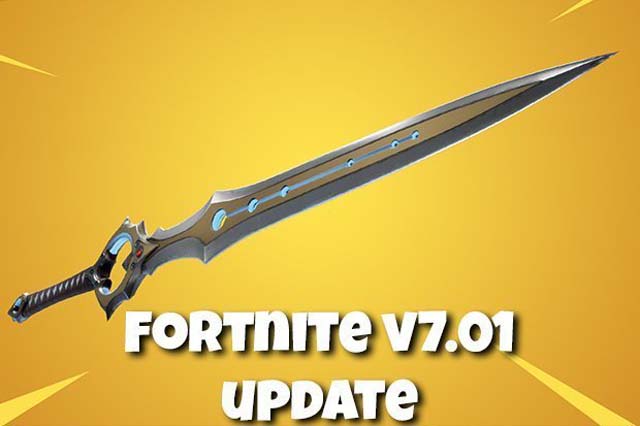 Infinity Blade
The biggest highlight of the update is the addition of a new sword. Well, gamers can't find it from treasure chests,instead,players can only find it at only one spot on the map, which is located in the newly melted town square of Polar Peak and players will have to pull it from the earth.
Unfortunately, here is only one on the map and it appears once per match at the top of Polar Peak, meaning that they are not easy targets, especially at the this time when it jus comes out. It is a Thanos-like superweapon. Its primary fire delivers a huge, 75 damage sword slash, which alternate damage leaps through the air cutting through any breakable object in its path and knocking up players for 25 damage. Although the player that picks it up gets faster movement and more health, they can't use any other weapons and their entire inventory is dropped, putting them at an extreme range disadvantage. If a player who has the sword dies, it's dropped on the ground for another player to pick up.
Considering so many players are now playing Battle Royale, fighting for the cool, powerful sword, your best bet may be to rush to it at the beginning of a round. Wish you good luck! What are you waiting for?
Cheap Fortnite Items
best store is over there, share your site to your friends if you feel good.
LTM Close Encounter
Other than the Infinity Blade, this patch also features the return of the limited time mode Close Encounters. The LTM is filled with jetpacks and shotguns. For a brief moment, planes were in the mode but Epic has quickly disabled those. Stats are enabled for the mode and the storm moves more quickly than usual. Enjoy.
Creative Mode
Epic has added a ton of stuff to Creative Mode in this update, too much to list here in full so you can go and check on the official website. Herein we just name some highlights. For example, the addition of a fifth new island that contains a zone that is exactly the size of The Block, meaning that you can design something to specifically fit in that spot as you try to get Epic to pick your creation. Besides, there are also now Featured Islands that will feature Community Creations with maps that can be played with creator-made rules. Well, it sounds pretty interesting. For more news on Fortnite, stay tuned for
5mmo.com
.