ARK Extinction has new resources that players can make use of
ARK Extinction Resources
With a key emphasis on survival, you will require all the crafting materials and consumables you can in Extinction. In this Extinction Guide, we have detailed some tips about finding these resources in the game.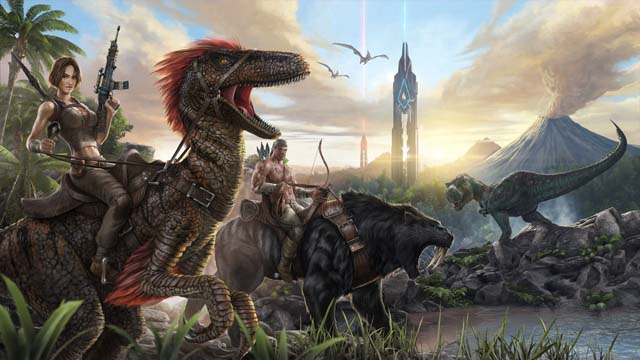 Element Dust

Element Dust isn't just a one-trick-pony, it's a vital resource that has a variety of uses throughout Ark's new Extinction DLC. First off, it powers the cool new drone – the Scout – which lets you scour an area from above, highlighting the life below.

Secondly, Element Dust is needed to craft certain blueprints that you loot from Enforcers. You can take these blueprints to a City Terminal, where you can then make an Enforcer for yourself. Once you've made an Enforcer, you'll have to keep its inventory stocked with Element Dust instead of food. Enforcer blueprints require a heck of a lot more Element Dust than just powering your scout, especially as their quality increases. Higher level wild Enforcers drop better quality blueprints, and this is the only way you can tame them.

Silk

Silk is a resource in the ARK:Survival Evolved DLC Scorched Earth used to craft a tent, whip, and desert cloth armor. There are mainly two ways to farm silk in the game. First, you can obtain silk by killing and harvesting Lymantria. To tame Lymantria easily, wait for the Lymantria to land and then place a tent directly where he/she is at. Its stuck until the tents durability dies out, this gives you enough to build a little house around it for a safe, easy tame. We recommend you to use a bola on it then shot it in the face with tranq arrows or darts. It is better for you to work with your teammates. Otherwise, you can get silk by harvesting the purple and white flowers found all over the desert and use a Metal Sickle for a great yield.

Polymer

Many crafting recipes in Extinction require Polymer, but the game doesn't make it very clear how to get it. That being said, American_Money on the ARK subreddit has the full details. Polymer is made using Corrupted Modules, and these Modules are found on the many Corrupted creatures lurking around Extinction.

Modules stack to 10 each
They spoil within 30 minutes

This guide can't possibly be as detailed as a full resource map, but hopefully these tips hold you over till there's one available. While you wait, check our our creature taming guide and ongoing list of admin spawn commands.

Fungal Wood

The Fungal Wood can be obtained from the white leaved trees, similar to the Blue Crystallized Sap. The Fungal Wood acts as an alternative to simple Wood: It can be used in buildings.

Gacha Crystals

Obtained from the creature species, Gacha, these special crystals award a wide range of resources when consumed. These include Thatch, Flint, Silk, Organic Polymer, Stone, Wood, Blue Gems, Congealed Gas Balls, and even full small structures like Wooden Tree Platforms. You can buy Cheap ARK: Survival Evolved CD Key at 5mmo.com. Additionally, every customer can enjoy a 3% discount when buying by using the code "5MMO".
How about other resources?
The following is a list of where you can find other resource.
Metal
: about everywhere + enforcers.
Oil
: enforcers
Obsidian
: inside desert biome, along the dome on east and south side
Silica Pearls
: beaver dams in the city
Cementing Paste
: beaver dams as well
Sand
: rocks in desert biome
Black Pear
l: corrupted rexes (not always and few like 2/3). probably giga too (cross one but couldn't kill it yet).
Cristal
: everywhere
Unstable Green Gem
: from what's look like the blue gem from aberration. except i haven't find a use for them yet (it doesn't replace the classic green in crafting pikes etc...)
Corrupted Heart
: corrupted rexes (always)
Gasbag Blender
: gasbags (always)