MUT Week 3 Legends Were Released Out in Madden NFL 19, Beefing Up Your Lineup Right Now
Madden 19's Ultimate Team
is once again one of the most popular game modes as players huild their own teams to compete with one another online. As a part of this, there are Madden 29 legends in the game that pack a punch and can take your lineup to the next level. As always, in Madden NFL 19, new legends are available every week and the list of legends in
Week 3
has just been released to beef up your Madden Ultimate Team. You can earn full version of Legends by winning
Ultimate Team packs
via the Auction House, or you can gather all the lower OVR version of each Legend and then head to Sets to be rewarded with the full Legend version. At the end of the article, some tips are provided for making coins in Madden Ultimate Team mode. First, let's take a look at the Legends for Week 3.
Deion Sanders
, CB, Dallas Cowboys, with a overall rating 92.
A longtime MUT community favorite, Sanders is the ultimate shutdown corner. An absolute cover artist, Sanders could single-handedly render offenses inept. He enters Legends in MUT with a 92 OVR honoring his lights out performance in a 23-19 win over the Philadelphia Eagles.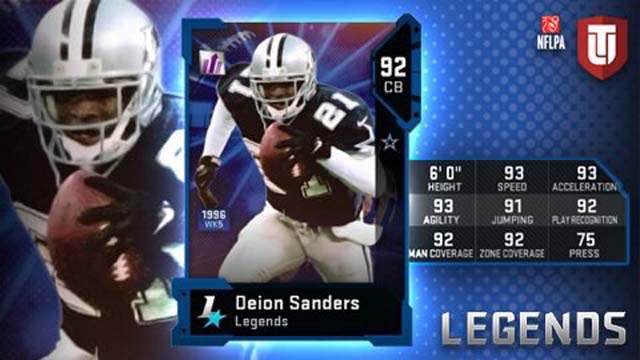 Donovan McNabb
, QB, Philadelphia Eagles, with a overall rating 92.
McNabb was one of the best QBs of his era. He could scramble, he could hit WRs deep, and he could throw on the run. There were times where he would take over games and put the offense on his back. In Week 17 of the 2003 Season, McNabb did just that, throwing for 242 yards, 3 TDs, and rushing for another score.
La'Roi Glover
, DT, New Orleans Saints, with a overall rating 93.
Glover is an all-time great and was a major force of defensive pressure. The 2000 season marked some career highs for Glover, as he racked up 17 sacks, the most he'd ever have in single season. Against the then St. Louis Rams, Glover kept the Kurt Warner-less "Greatest Show on Turf" grounded, recording three sacks on the day. To unlock those legend players, maybe you can buy
Cheap Madden NFL 19 Coins
at 5mmo.com, the best online game currency store.
Here are a few tips for farming Madden NFL 19 Coins
The best way to make coins is to complete the Solo Challenges of the game.In the Campaign Challenges you can get 2,500 coins for completing 4 challenges. By finish those challenges, you will receive a pack of cards, most of which will be of a gold or silver rarity. You may also receive the elite card pack if you are lucky. You can sell the cards via Auction House for a decent amount of money. If you want to relieve yourself from those grinding challenges, come to
5mmo.com
, where you can use the code "
5MMO
" for
a 3% discount
and get coins at the cheapest price online.
Checkout the daily challenges or objectives in the MUT menu. Those objectives vary in difficulty level and variety. By completing these objectives, you can increase your MUT level and collect rewards including some decent coins. Sometimes, these rewards will involve some card packs which will help you avoid spending coins on other stuff. It is worth mentioning that you can do all the Solo Challenges once. Besides, you can also try Sole Battles which are reset every week. It is nice source of both XP and coins. As you rank up in your MUT level, you can also receive special discounts to save up on rare and legendary cards in the store, which will save money for you. For more advice, you can check the video above.