Madden NFL 19
has been available for Madden fans for seven days, but how much have you known about the new changes of
Madden 19 Franchise Mode
? If you are a longtime Madden player. You may know that the game's franchise mode has largely gone untouched for quite some time. However, the minor adjustments year-to-year end with Madden 19, apparently. Franchise mode was a big focus for
EA
this time around, with a nice mix of both cosmetic and functional improvements to make it feel fresh. So let's experience Franchise in a whole new way!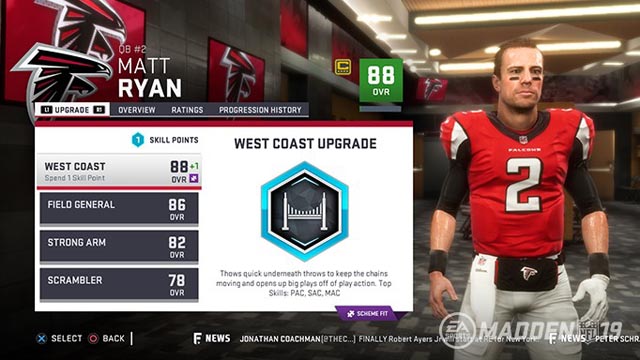 An Archetype-Based Progression System.
Madden NFL 19 introduces a new way to progress and classify your players in Franchise with the Archetype Progression system. Each position is now broken up into two-to-four styles used to grade the player. For example, the quarterback position now has four styles:
Field General, Scrambler, Strong Arm, and West Coast
. Matt Ryan may be an 88 OVR West Coast, but only a 78 OVR Scrambler. On the other hand,
Deshaun Watson
may be an 82 OVR Scrambler but only a 79 OVR West Coast. These archetype OVRs make it easy to evaluate a player's strengths and weaknesses. Naturally, if the Overall Rating of a player gets higher, his price in the game also will be higher. So if you want to buy some strong players to build your squad, it is a must for you to prepare enough coins. But don't worry. Coming to 5mmo.com and you can buy the
Cheap Madden NFL 19 Coins
with guaranteed refund, 100% secure payment, fast delivery and unprecedented discount!
Gaining
Skill Points
Earn Skill Points by acquiring enough
XP
for a player to level up. XP is earned during gameplay, training, awards, and more. Once you've earned a Skill Point, spend it on one of the Player Archetypes to upgrade the OVR for that Archetype by a full point.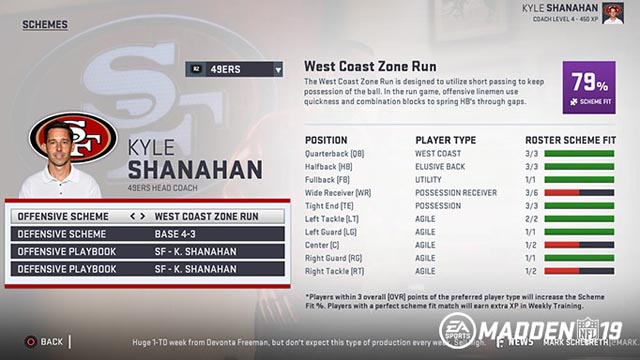 Changing
Your Scheme
You can change your scheme whenever you want, so if you notice you've been acquiring a lot of players that can play well into a particular scheme then you can make a change to maximize your team's effectiveness. Players who fit into your scheme will have a purple puzzle icon on their player card, so it'll be easy to spot the perfect fits for your team at a glance.
The Addition of New Specialist Positions
Keeping with improvements to roster management, the addition of new specialist positions is sure to delight. You can now place players into roster spots for positions like 3rd-down running back, slot receiver, or nickel corner. These positions are used in several formations and require players with specific skill sets, typically increased speed or strength.
11 New Attributes That Will
Help Differentiate Players on the Field
In previous Madden games, these adjustments required in-game substitutions, but you can now call plays and rest easy knowing the game will automatically substitute the right player in for the play you called. To support all of this deeper player scheme stuff, there are as many as 11 new attributes that'll help differentiate players on the field even more.
Four Different Levels of Progression Speeds
Player development is also getting a facelift. There are now
four different levels of progression speeds: normal, quick, star, and superstar
. These ratings change more frequently than in the past, but the superstar rating is now reserved for the most elite players at each position. Expect just a few players in the league per position to be able to hold that classification.
More New Features
As you do your daily bidding, you'll see several
new 3D environments
based on your current task. If you're talking to players, you'll see them getting ready for gameday in the
locker room
. If you're going over the game plan, you'll see your
coach typing
away at his desk. And if you've won a
Super Bowl
, you'll also see that trophy sitting somewhere in his office.
Actually, there are still more other new changes in Madden NFL 19 Franchise Mode. We will continue the introduction of them in the next news. So if you want to know about the Franchise Mode, please keep paying attention to
5mmo.com
.