NBA Live 19: the Top 5 Small Forwards That You Should Buy First - LeBron James, Kevin Durant, Kawhi Leonard, Paul George & Gordon Hayward
If you have ever visited
5mmo.com
and have browsed the news in recent days, you will find that we have recommended the
top 5 Centers, Shooting Guards
and
Power Forwards
that you should buy first at the launch of NBA Live 19 according to the Overall ratings of players. If you have not seen these news, you can click
here
. And today, we will continue to recommend the top 5 players that you can buy first at the position of
Small Forward
.
The first player that I will recommend, also the player who own the highest
97 Overall rating
in the position of Small Forward and even in whole NBA players, is
LeBron James
. James now is a player in the team of
Los Angeles Lakers
. He is an unreal athlete, because he's found a way to fight off Father Time and looked as dominant as ever on offense last season tallying his highest point average since his first season in Miami, and he played in all 82 games for the first time in his career. Aside from the number of regular season games he plays (typically in the 75-80 game range), he also adds about 20 postseason games each year. Sometimes, love him or hate him, you need to just sit back and be astonished at the durability and ability he has at this point in his career. Heading into season number 16, LeBron is NBA LIVE 19's highest rated player.
The second player is
Kevin Durant
who comes from
Golden State Warriors
with a rating of
95 Overall
.One of the many things that make Kevin Durant so special is his length and size mixed with his fluidity and athleticism. The biggest improvement was made on the defensive end for Durant last year, as he averaged 1.8 blocks per game. Furthermore, when you saw him play, he was often matched up against guards and playing on the perimeter. While LeBron still takes the throne of the NBA's best player, KD is the most versatile.
And next, the third player,
Kawhi Leonard
is coming from
Toronto Raptors
with a rating of
92 Overall
. In seven seasons, Leonard is a two-time
Defensive Player of the Year
(back-to-back), a
Finals' MVP
, has made four All-Defensive teams, and two
All-NBA first-teams
. Per game, in his last full season (2016-2017), Leonard averaged a career-high 25.5 points, 5.8 boards, and just under two steals per game while shooting 48.5% from the field. Even last season, though he only played nine games and 23.3 minutes per game, Leonard still averaged 16.2 points per game and 4.7 rebounds. With this trade to Toronto, expect Kawhi's usage to go up and, assuming he's healthy, we might see an MVP-worthy season as he makes his push toward 2019's free agency.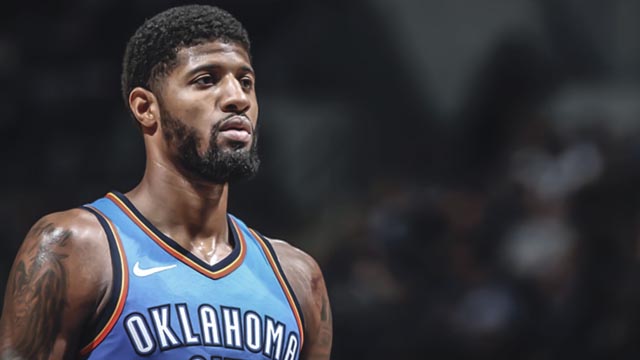 As a Small Forward from
Oklahoma City Thunder
with a rating of
90 Overall
,
Paul
George
put up 21.9 points, 5.7 rebounds, and shot 40.1% from three-point range last year. Playing in a system that had a lot of ball-dominant players created some inefficiencies across the board for the Thunder (as evidenced by PG's poor 43% FG numbers) but, with
Carmelo Anthony
in Houston, look for George to be able to hit his comfort zone a little quicker in the season. Paul George shocked the world by staying in
Oklahoma City
rather than switching over to a bigger market or joining to create a super team like the Houston Rockets or the Philadelphia 76ers.
Although
Gordon Hayward
just own a rating of
85 Overall
which is lower than the other four players that we have recommended. And even we've only seen Gordon Hayward in a
Boston Celtics' jersey
for five minutes, but that doesn't take away from his ability on the floor. Hayward has all the tools to be a true star in this league. Over a number of years in Utah, Hayward's game grew into that of an all-star caliber player. Throwing away last year, Hayward averaged above 19 points, five boards, and three assists in three-straight seasons while rarely missing games. Hayward is a more-than-serviceable shooter but is also one of the more trustworthy on-ball defenders you'll find. Putting a healthy Hayward on Boston's already-good defensive unit just makes you realize the team's potential.
Consequently, the coins that the gamers should pay for the card of these excellent players also will be a high amount. But don't worry, the
Cheap NBA Live 19 Coins
are sold in 5mmo.com. By the way, the
unprecedented discount
is provided now!