NBA Live 19 Female Create Players and Some other Exciting Obvious Features to the Game
It's official that the EA Sports has announced that
NBA Live 19
will have the option available to create female playable characters. Players will be able to create female characters and take them around the world in THE ONE mode and these characters will be able to travel to the numerous courts across the world.
NBA Live 19's THE ONE mode
will also have men and women playing on the same team together and that will be awesome for players.
NBA LIVE 19 will bring numerous new features and enhancements to the hardwood, building on last year's strong foundation.
Facts And Questions About Build Your Squad
Co-Op or Individual
The mode appears to be 3-on-3, similar to 2K's PARK and you can team-up with friends or play solo with CPU teammates.
NBA Live Events
There will be
NBA Live Events
that give players the opportunity to earn rewards specific to a timed event. In NBA Live 19, you get the ability to play in Brazil, the Philippines, and Paris should you choose to play internationally. When you get into the details gameplay, the biggest aspect the team was looking to build on, it's even more exciting. The one-on-one aspect of the game also really comes to life in NBA Live 19. Fast to buy
NBA Live 19 Coins
IOS and Android at
5mmo.com
. As a professional NBA Live 19 Coins seller, we will provide the
Cheap NBA Live 19 Coins
and guides with fast delivery online. On offense, you will need to make moves to not only get open, but also to get to the rim and basket.
NBA Live 19 Ratings Reveals
Luka Doncic, Dallas Mavericks (81 Overall)
Michael Porter Jr., Denver Nuggets (80 Overall)
Kevin Knox, New York Knicks (78 Overall)
Aaron Holiday, Indiana Pacers (77 Overall)
Jaren Jackson Jr., Memphis Grizzlies (81 Overall)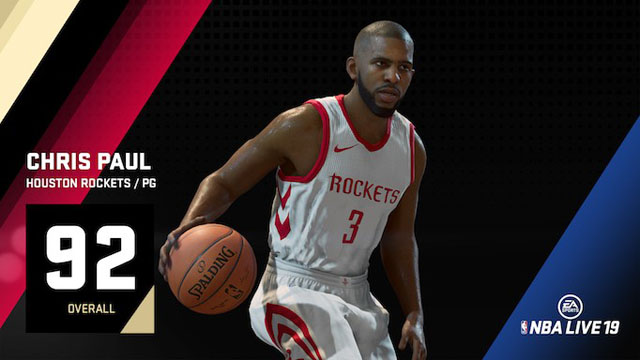 Players of the game are able scan their faces to make their created player as accurate as possible. This option used to only be available for men, but now will be officially opened up for women. Players will participate in basketball events from
Brazil to Paris
and in the states. Here, they will take on the best to create a legacy to rival basketball's elite.
In the game, women ballers will not have a comparable league experience. However, all of those players will have the ability to play in the Streets just as the men do. In other words, pick-up and Pro-Am basketball will be co-ed.
Women players will also have their icon packs or unique skills and abilities tied to real life players available to be unlocked. The NBA Live 19 women icons are
Candace Parker, Brittney Griner and Elena Delle Donne
. One of the obstacles to including women in sports video games is the question of how to do it.
Some more NBA Live 19 features have been revealed over at
GameStop
. NBA LIVE 19 redefines the way you play a basketball game.
Real Player Motion
and 1v1 Everywhere gives you control in every possession and provide you the ability to change momentum in any game and dominate your opponent. Not only you can create a female player, NBA Live 19 includes new Icon Abilities modeled after some of the best women in basketball, including
Candace Parker
. The ability to create and play as a woman in NBA Live 19 is a huge step forward for sports games.
If you're going to create your own basketball players, there's no doubt that it is cool to have the ability to create your own female player in-game and you can also use them in The One. This is some serious progression for the sports gaming industry, and great news for anyone who's ever wanted to appear in a basketball game. That it's an exciting time for female basketball fans.